Lady Iron swimming and diving recap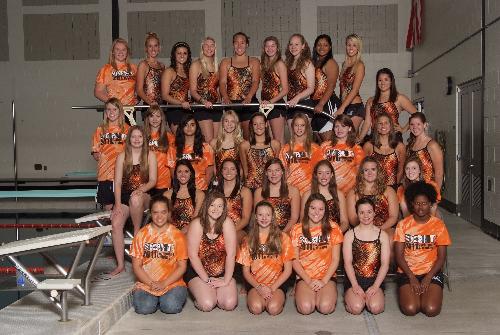 Lady Iron Swimming finished their season on a rather high note. They won the Big 12 Conference for the third year in a row, which is a huge accomplishment considering 3 years ago was the first time they had won in their history.  The swim team didn't win Sectionals (the win was taken by University High School) but they had many swimmers and two divers advance to the State meet.
Diver Rachel Williams (11) went into state ranked 12th. Williams broke both of the school's diving records throughout the season. She broke teammate's, Alicia Kimbrell (11), record who went in ranked 35th.
After the preliminaries, Williams ranked 11th and Kimbrell was 38th. The top twelve divers advanced to finals. Williams ended up 9th out of the top twelve in finals with a score of 373.70 and has hopes of placing higher next season. She said that she will be working on new dives and cleaning up skills that she already has.
Bethany Steffes (12) advanced to state in both of her individual events that she swam at Sectionals. She went into state tied for 34th with a time of 24.42 in her 50 yard freestyle. And she was ranked 23rd in the 100 yard freestyle with a time of 52.89. Steffes climbed up in the 100 freestyle rankings and moved down in the 50. She was upset with how her 50 turned out but was very pleased with her time in the 100. Steffes just recently sent her letter of intent to Lindenwood University and is very excited to be swimming for them next fall.
Kirsty Hessing (11) attended state in two individual events along with Steffes. She went in ranked 23rd in the 200 yard freestyle with a time of 1:54.78. Hessing also ranked 32nd in the 100 yard butterfly with her time of 58.50. She didn't do as well as she wanted to at state as she dropped her rankings in both events but is looking forward to improving in the off-season to prepare for her senior year.
Both girls swimming individual events are on the 200 yard Medley Relay (backstroke, breaststroke, butterfly, and freestyle). The relay includes Lauren Oostman (10), Katelyn Sauder (10), Hessing and Steffes. The speedy foursome broke the school record that was set last year by Oostman, Alexis Read, Hessing and Alexandra Marable. The relay went into state ranked 32nd with their record-breaking time of 1:49.44. Oostman believes that the relay performed very well at Sectionals and State. They had pressure on them to do well and not let anybody down. Their excitement led them to finish 28th overall even though they added time.
As a whole, the season was successful. Coach Heather Budak and Coach Lisa Jones are ready to see what next year's team is capable of. Coach Jones said, "We are losing some wonderful seniors but the Lady Iron swimmers always seem to step up and fill those spots nicely." All in all, Lady Iron had a great season with their win at the Big 12 Conference for the third year in a row (JV and Varsity), fantastic time drops at Sectionals, and having six State qualifiers. Everybody is looking forward to another great season next year!
About the Contributor
Alexandra Marable, Editor in Chief
Alexandra Marable is a senior at Normal Community High School. She has been involved with the paper for two years now. Last year, she was the Associate...