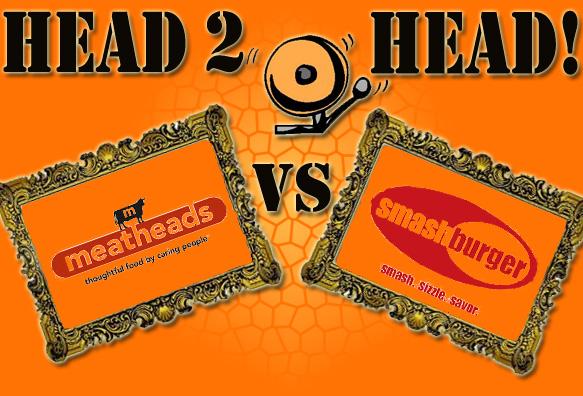 Meatheads:
Locations: Two locations, one near ISU, the other off of Veterans, allow for easy access anywhere in town.
Burgers: These burgers stick to the basics. Meat, condiments, bun, lots of grease. But the basics have never been tastier.
Fries: You can get both regular, Cajun fries, and cheese fries. The obvious standout is the Cajun as its spices work very well with the burgers.
Desserts: They have very basic desserts, and Meatheads shakes bring only mediocre to mind.
Variety: This is a very typical burger restaurant that stays on the safe side in the variety, despite a hot dog menu. But it does safe very well, thus making it one of Bloomington's favorite burger.
Health: Why bother, Meatheads doesn't strive for the health crowd.
Price: Remains expensive, at almost 10$ for a meal of burger, fries and a drink.
SmashBurger:
Location: Only one location, tucked out of the way a bit from Veterans. But, they are a larger chain that has many locations across the country.
Burgers: SmashBurger prides itself on its variety, ranging anywhere from Chicago- themed, with fried onions and a pretzel bun, to a burger smothered in avocado. There is something for anybody.
Fries: They have regular and signature Smash Fries, that have garlic and rosemary. Smash fries are delicious, but a restaurant with so much variety should offer more types of fries.
Dessert: SmashBurger has a decent selection of Haagen- Dazs milkshakes, the big winner being the salted caramel shake. Yum.
Variety: They have a whole other menu devoted to grilled chicken sandwiches, with the same options as the burgers. The also have several salads for those going for a healthy option.
Health: All the burgers are made a with fresh ingredients, and make your meal taste almost organic. The salads don't hurt, either.
Price: Your meal will run slightly less than Meatheads, with around 8$ for a burger, fries and a drink.
Winner: Smashburger. Don't get me wrong, Meathead's is delicious. But I will have to go with the cheaper, healthier, and varied option for this one.