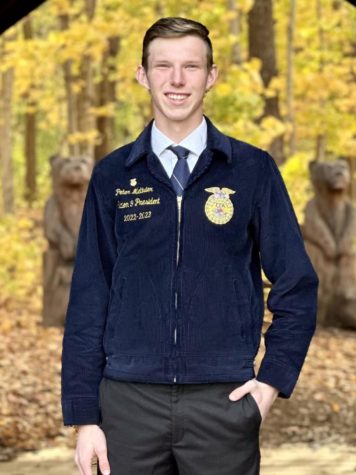 Illinois FFA named Peter Metivier as one of ten State Officer candidates, selecting him to compete for the organization's five highest student leadership positions during its State Convention.
Metivier, who currently serves as FFA's Section 9 President, said to be nominated was an honor.
"I'm still unsure about what my future will hold," Metivier said. "But all I know is that FFA is a great organization, and it's really giving so many students the opportunity of a lifetime."
Regardless of the election results at the Convention June 13-15, Metivier's achievement is a historic accomplishment for Unit 5's FFA programs.
Just two Unit 5 students have served as FFA State Officers—President David Mouser in 1993 and Secretary-Treasurer Dwight Zehr in 1944.
Metivier's selection as Major State Officer makes him the first member of the Normal FFA chapter to be nominated for the prestigious role. 
While established in 1934, the district's FFA chapter moved from Normal to Normal West when the new high school opened in 1995. As a result, Community's chapter was not chartered until 2011.
Agriscience department chair and FFA co-adviser, Mrs. Liz Harris, said the Major State Officer selection process is extremely competitive.  
"I don't want to take away from any organization," Harris said, "but there are 40,000 FFA members in Illinois. So to me, that's very prestigious, to be one of the five that's leading the 40,000."
The selection committee's lengthy process, Harris said, reflects the commitment required to serve the state's 354 chapters effectively. 
Student applicants must have completed an FFA degree, an honor awarded to 2% of members statewide based on three years of FFA membership, career experience and community service, Harris said.
Eligible applicants are scored on seven components, including a written speech, an in-person facilitation exercise and an interview.
The ten highest-scoring students are announced as Major State Officers and campaign to be elected to one of five State Officer positions. 
That responsibility—serving 40,000 students "from downtown Chicago all the way to the very tip of Southern Illinois"—isn't lost on Metivier.
Despite the diversity of Illinois FFA, Metivier, a two-year Section Officer and three-year Community Leadership Team Member, said, "We're all connected by our blue corduroy jacket…and I'm proud to be a part of [FFA] and help other members understand the importance of [that] jacket."
Once elected, Officers take a gap year, living in Springfield and traveling statewide to lead FFA activities.
The decision to delay higher education can be daunting, Metivier said.
"It's a year without learning," Metivier said. "It's a year you're held back from all your friends…but I just want to give back, and I want to create this opportunity for the next generation. And that's something I'm willing to give up my freshman year of college over."
That sense of humility, Harris said, is what makes Metivier's leadership stand out.
"The reason that Peter has been in any leadership position," Harris said, "is [because] he wants to help others, and it's not about himself in any way.
"I think that he has a very unique perspective, and he sees the FFA organization for what it can be," Harris said, "and not just what it is."