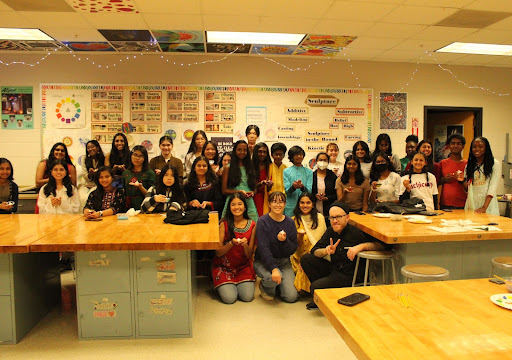 The Asian American Pacific Islander Culture Club (AAPI) hosted its first official event celebrating Diwali on Oct. 28. 
Each month, Pranavi Chaganti, the club's board chair, said, the organization plans to recognize, celebrate and teach about Asian cultures.
The AAPI's purpose, Chaganti said, is to "provide a space that would allow members to show the authentic nature of their own cultures" while providing a space to educate non-Asian students about their classmates' cultures. 
"Anyone at the event," Chaganti said, will have the "opportunity to learn."
At their October meeting, the club celebrated one of the most important holy festivals in the Hindu religion. The annual five-day religious celebration is observed throughout South Asia,  celebrated in the Jain, Sikh and Buddhist religions.
Diwali, or the "The Festival of Lights," Chaganti said, represents the "triumph of good over evil." 
"There is a fabled story called 'The Ramayana,'" Chaganti said, that tells of a well-liked, virtuous prince who was exiled for a long period of time, but remained optimistic.
The prince, Chaganti said, defeated an evil demon to return from his exile. 
"That triumph of good over evil," Chaganti said, "was celebrated as he returned with fireworks… and a lot of excitement. That's why we celebrate Diwali with fireworks and lighting lamps."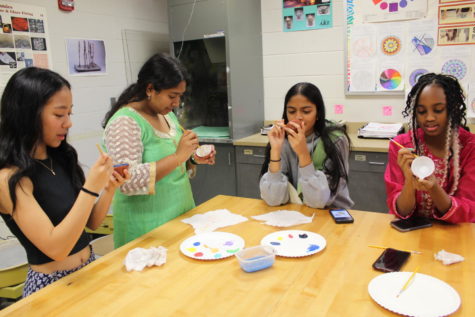 The word Diwali comes from the Sanskrit word Deepavali, meaning "rows of lighted lamps," according to the BBC.
To "truly immerse people in the celebration" of Diwali at Community, Chaganti said, "would be a lot more meaningful" way to observe the festival since the club felt it had grown in recognition.
"Diwali is one of those festivals," Chaganti said, "which a lot of people [are starting to] acknowledge. I've seen it celebrated at my middle school." 
That was an experience the AAPI's founders wanted to bring to Community. 
"That way," Chaganti said, "people can say, 'we did that at our school. and it was a lot of fun.'"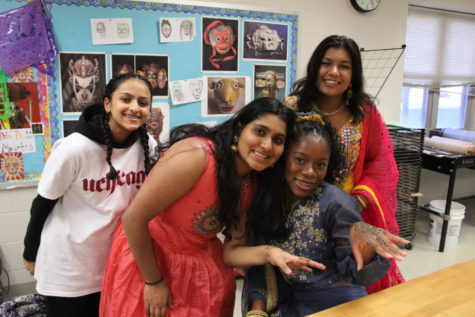 After a presentation on the festival, the Friday, Oct. 28 celebration offered the 50 students in attendance a variety of activities to participate in: painting small clay lamps called diyas, receiving henna, creating rangoli — detailed flower-like designs meant to bring good luck, and eating traditional Indian food.
The event's $5 admission covered the art materials and food cost.
Aroma, a local Indian restaurant, provided two traditional Indian snacks:  onion pakoda and gulab jamun, and one of the board members' parents prepared samosa.
One aspect of the Culture Club's goal, Chaganti said, is to allow others to immerse themselves in different cultures that are traditionally underrepresented in our community.
"It's not just a space for Asians," Chaganti said, "anyone is welcome."
The AAPI Culture Club will host a snack sale on Nov. 29 in the atrium, selling various popular Asian snacks like Pocky, Hi-Chew, Kurkure and Dairy Milk.