Seniors enjoy sunrise on half-day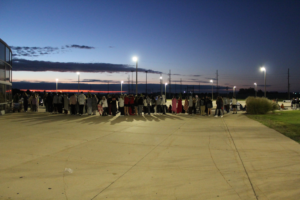 Members of the Class of 2023 gathered outside before dawn at the Senior Class Board-sponsored "Senior Sunrise" on Tuesday, eating donuts and watching the sunrise.
The event, held in the staff parking lot, was a beginning-of-the-year twist on the annual "Senior Sunset" tradition.
---
FBLA state officers present to Springfield Chamber of Commerce
FBLA state officers Avani Rai ('23) and Sonika Tamilarasan ('23) present to the Springfield Chamber of Commerce at the FBLA IL Board of Directors meeting this weekend. 
Rai, State Vice President, and Tamilarasan, State Treasurer, will meet with other FBLA state officers and Illinois Board of Representatives members to work on state and region plans for the 22-23 year. 
---
FFA officers celebrate Section 9 Week
FFA Section 9 President Peter Metivier ('23) welcomed FFA state officers to Community for the section's first day of chapter visits Monday. 
Metivier and Lily Garcia ('24), Section 9 Secretary, hosted sessions in intentional relationships and resilience for Leadership Training School attendees on Tuesday before touring the remaining Section 9 chapters Wednesday – Friday.
---
Social Studies club tours downtown
Social Studies club toured historic downtown Bloomington on a walking tour led by Bill Kemp, McLean County Museum archivist, and Mike Matejka this weekend.
The 30 attendees learned the history behind many of the area's buildings and the lives of the people who lived there, examining marginalized groups' struggles for rights from a local perspective.
*Editor's Note: Avani Rai is a member of the Inkspot staff