School Board cuts middle school foreign language
The Unit 5 School Board voted to eliminate the 8th-grade foreign language program — the result of a nearly $14 million budget deficit — on Wednesday, March 9. 
The Board removed the district's 5th-grade instrumental music program from the list of proposed budget reductions for the 2022-2023 school year.
The Board approved Normal West serving as the host school for the Associate's degree in Computer Science Cohort due to the school's proximity to Heartland Community College. 
---
Speech team members advance to Nationals 
Avani Rai ('23) qualified for the National Speech & Debate Association's National tournament after placing among the top two finishers in U.S. Extemporaneous Speaking at the District Qualifying Tournament March 4 – 5. 
As a result of Rai's finish, Riya Prasade ('23) will compete in a supplemental event when the two attend June's Nationals in Louisville, Kentucky. 
---
6 NCHS students' artwork accepted into 95th Amateur Art Competition
The 95th Annual McLean County Amateur Art Exhibition will showcase the artwork of six Community artists. 
Pieces by Anisha Amaravadi ('22), Elly Carrel ('22), Reese Dalton ('24), Caroline Johnson ('23), Rebecca Kelly ('22) and Aiden Vinson ('25) will be on display at the McLean County Art Center through April 9.
---
Music program finishes 5th at IHSA Solo & Ensemble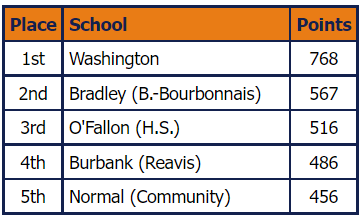 Community's orchestra took 1st place in the 2A strings category of the IHSA Solo and Ensemble Contest Saturday, March 5, in Washington, Illinois.
In the choral competition, Community placed 3rd, helping the music program earn a 5th-place overall finish. 
Of the 90 events in which Community participated, four students were recognized as "Best of the Day", juniors Matt Beigie, Leslie Burton and Krishiv Sreejith, and freshman Lily Mavros. 
Mavros competed in one of four events in which Community earned a perfect score: with judges awarding top scores to violin soloists Sophia Boyer ('25) and Audrie Schuller ('22), and the piano ensemble of Schuller and fellow seniors Lily Kreun, Andrew Short, and Karen Xiong.
---
FFA, girls basketball greet Grove students 
A Grove Elementary parent group organized a welcome party for Grove students the morning of March 8, with members of Community's FFA board, girls basketball team and Officer Jeremy Flood greeting the Gators as they arrived at school. 
---
Mock Trial competes in ISBA State competition 
The Mock Trial team competes in the virtual Illinois State Bar Association (ISBA) State Competition Friday and Saturday. 
Editor's note: Avani Rai and Matt Beigie  are members of the Inkspot staff.