The IHSA State Speech Competition "was just mind-blowing," according to Junior Ciara Wallace, one of Community's three State qualifiers.
Wallace, who competed in Feb. 18's Poetry Reading preliminary round, described the State experience as "extremely competitive."
The competition at the Peoria Civic Center was stiff — Wallace, Lily Kreun and Riya Prasade were unable to place among the top-six finishers in their event to advance to Saturday's State Finals.
"There were so many talented individuals from the area," Wallace said. "It was just mind-blowing, seeing how these kids could do so much with poetry."
Despite not advancing, senior Lily Kreun's experience in Radio Speaking was "really …exhilarating" — the four-year team member was just happy to return to State competition after qualifying as a sophomore.
"I didn't really care at that point where I placed just because… it can be kind of difficult to even make it to State," Kreun said. "I was grateful to be there this year."
Riya Prasade participated in the tournament's Informative Speaking competition, contributing to what Speech Coach Ms. Jacqueline Zeman described as her most successful season as head coach.
Qualifying three teammates was an improvement from the team's 2021 speech season, which only saw one student, Avani Rai, qualify for last year's virtual State tournament.
It "was really exciting to be together and feed off each other's energy," Zeman said, "because we haven't been able to do that."
Zeman will end her tenure as head coach on a high note, as she steps down after four years as head coach at the end of this season.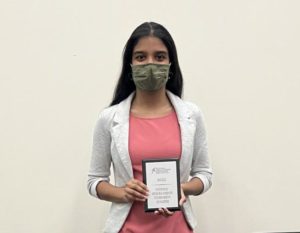 Zeman's resignation will have to be postponed to June, though, after Rai qualified for the National Speech & Debate Association National Competition, finishing in the top two of US Extemporaneous Speaking.
Prasade will join junior Rai in Louisville, Kentucky, competing in a supplemental event.
Zeman remains open to the idea of returning to coaching in the future, but in the meantime, she hopes the legacy of the program is one where the team members built "lifelong" friendships, connecting with people "not just in [Normal Community], but in other schools."
Editor's note: Avani Rai is a member of the Inkspot staff.