Community feels impact of staffing shortages
Staffing shortages, said Superintendent Kristin Weikle at the Oct. 17 School Board meeting, are "one of the biggest challenges [the district] is facing" this school year.
Unit 5's struggles to staff vacant positions in the food service and custodial departments, and the lack of substitute teachers and bus drivers, have impeded the district's return to normalcy.
The district's challenges come amid pandemic-induced nationwide worker shortages. 
Nationally, the percentage of the employable population that is either working or actively looking for work is at a 30-year low, according to the U.S. Bureau of Labor.  
Illinois ranks fifth on the Bureau's most recent ranking of state unemployment rates, remaining stagnant at 6.8% since March of 2021, despite initiatives to reopen the state.
But, unlike other parts of the nation, the Bloomington-Normal community experienced a period of growth during the pandemic. 
Patrick Hoban, CEO of the Bloomington Normal Economic Development Council, worked to bring automobile manufacturer Rivian to town and expand chocolate producer Ferrero's facilities. The businesses invested 1.2 billion and 75 million dollars respectively into their Bloomington manufacturing plants.
Hoban said these plants have led to "upward mobility" for Bloomington-Normal employees, contributing to the worker shortages the district is experiencing.
"A lot of people that might have been a janitor can now be a custodial engineer…if you're a bus driver, you can also make more money with your CDL driving a truck," Hoban said.
The Council is working to address this through a "commuting campaign" to "capitalize on the 30,000 people that drive [into town] from other communities every day to work," a process that could take up to five years, Hoban said.
At Community, other COVID-19-related factors exacerbate the worker shortage.
Administrative Assistant Mrs. Michelle Williams, whose roles include assigning substitutes for absent staff, believes the staffing struggles are, in part, caused by a hesitancy to return to work while COVID protocols are in place. 
"We've had a lot of subs kind of drop out until [we're] past all the wearing masks and social distancing and things like that," Williams said. 
COVID close contacts are another barrier when it comes to staffing. In food services and transportation, they have left many unable to report for work, acting like a "snowball effect," Williams said. 
These factors have had a large impact on the day-to-day roles of those who do come into work. 
Mrs. Margie Toca, head of Community's Food Services department, began the school year with 75% of her open positions filled. Toca anticipates that the situation will remain the same "for the majority of the school year," so her biggest goal is to take care of her staff.
"I don't want [the food service staff] burnt out. And they will get burnt out," Toca said. "So I come in early every day. I'm out there with them…I very rarely spend time in the office, which is a big change."
Sometimes, that isn't enough, Toca said. 
Recently, four staff members were unable to report to work. As a result, the department had to shut down one of the seven lunch lines, impacting student wait times and lunch options.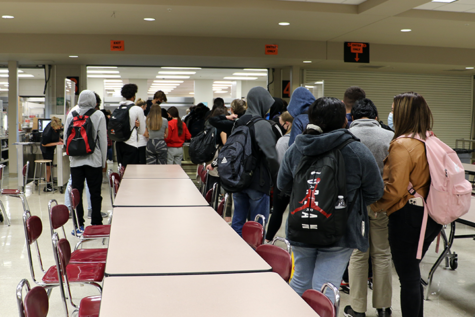 In transportation, the lack of bus drivers has increased the number of late buses. 
Williams realizes the impact this can have on students. 
"If a student is 30 minutes late every day, they're missing a majority of their first hour class…that affects the student [and] that affects the family…[if] you're not getting to school on time and not getting a good grade in that class," she said.
The administration has instituted special passes to track buses and chronically late students to address this. 
However, the situation is improving, with only two to three late buses that reach Community within 15 minutes of the school day, Williams said.
Like Toca, Community staff members are taking on additional responsibilities to aid the student body during the worker shortage.
With shortages in the custodial department, sometimes Williams has to step in to fill the void.
"If I need paper in one area [and] they're not able to get it," Williams said, "I may have to just take a couple reams over.
"We all just have to pitch in and help each other out until we get past it…[and] I cannot stress enough how much the staff in this building is willing to pick up where the last Ironman left off."
About the Writer
Avani Rai, Senior Staff Reporter
Avani Rai is a senior at Normal Community High School and is a part of the Speech Team, FBLA, and Swim team. This is her second year working with the Inkspot,...