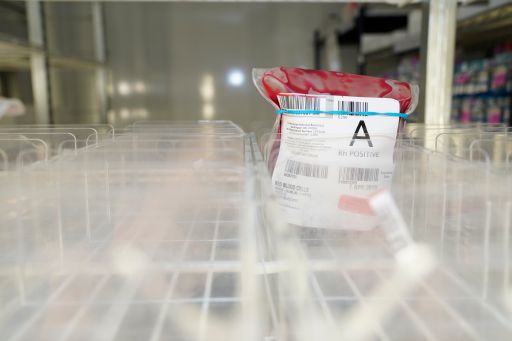 During a national blood supply shortage, Student Council will host a blood drive Friday, Nov. 19.
Students 16 and older are eligible to participate, with donors receiving a t-shirt and a $10 Amazon e-gift card provided by the American Red Cross. 
With the American Red Cross' blood supply at its lowest since 2015, the organization declared an emergency blood shortage. Blood donations have decreased 10% since August due to COVID-19-related blood drive cancellations.
According to a Red Cross press release, the organization has "had less than a day's supply of certain blood types in recent weeks." 
Donated blood is used in a range of circumstances, from serious injuries, surgeries, and childbirth to treatments for cancer, anemia, and blood disorders.
Junior Anne Mayotte was born with anemia, lacking red blood cells. This condition reduces oxygen flow to the body's organs.
Mayotte received donor blood as a newborn.
"It's the reason why I'm alive," Mayotte said. "If I didn't have enough blood, I wouldn't be here."
While Mayotte required transfusions as a baby, more than 1 of every 100 mothers need blood during childbirth.
During the birth of her first son, Learning Resource teacher Mrs. Barb Koski required three units of blood. 
On average, according to the Red Cross, a person has approximately 10 units of blood.
Before needing a transfusion herself, Koski had donated blood "a couple of times in college."
Today, Koski has donated blood 41 times. 
"It is a good feeling to know that you are helping someone that you will never meet," Koski said.
Among staff members who regularly donate is chemistry teacher Mr. Jeff Christopherson.
After first giving blood in college, Christopherson estimates he has donated over 85 times. 
"It's not painful," Christopherson said. "And you get a really good feeling out of it."
Most importantly, Christopherson said, blood donations are essential since they are the only source for blood "since blood can't be manufactured" or artificially made.
"Donating blood is a good way to make a big difference," Christopherson said. 
Recent studies show a need for blood transfusions every 2 seconds, but, according to the Red Cross, a single blood donation can save up to three lives.
Markus Gustafson ('23) first donated blood in February because he wanted to help others determine his blood type. 
After donating, Gustafson said he'd do it again.
"It's something easy you can do," Gustafson said.
The donation process, which provides one unit of blood, takes 10 minutes on average. 
This year's Student Council blood drive coordinators, seniors Lauren Bengtson and Kyle Gorman, worked directly with the Red Cross to organize the event, the first held at Community since 2020's record turnout. 
"My sophomore year," Gorman said, "we [collected] about 100 pints of blood, which was really phenomenal. That's the most we've ever done in school."
Type O-Negative is the most sought-after blood type since it is the universal blood type. O-Positive is given to patients more than any other type, making it the most needed blood type.
Gorman, like Gustafson, didn't know his blood type when he first donated. 
"Just because you're not O Negative," Gorman said, "doesn't mean you can't donate," since there is a need for all blood types.
Students can sign up in person or by visiting the Red Cross website. 
The blood drive will be held in the multipurpose room from 8:30 a.m. to 2 p.m. 
Donating? Read the Inkspot's coverage on what you need to know about giving blood.