Thanksgiving amidst a pandemic; ISU public health expert weighs in
Dr. Jackie Lanier would love to see her five siblings on November 26. However, there will be no holiday get together this Thanksgiving. "It's going to look really different, and it should unfortunately," she said. 
Due to the COVID-19 pandemic, the Center for Disease Control recommends that holiday gatherings be limited to members of the same household.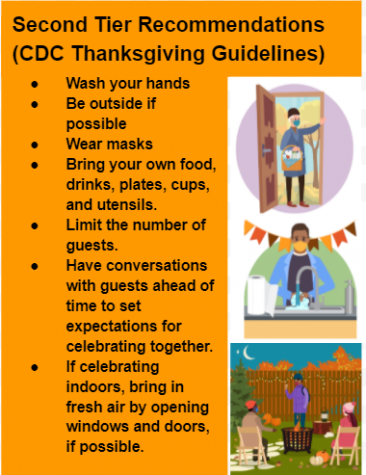 "That's hard to hear," Dr. Lanier, an associate professor in the Department of Health Sciences at Illinois State University and member of the University's COVID response task force, said.
While unsure whether or not Thanksgiving will have a significant impact on COVID numbers in the area, which as of November 24, there are 7,809 cases in McLean County, with the seven day positivity rate at 8.1%, Dr. Lanier expressed hope that people will "make a safer choice." 
Thanksgiving is traditionally a great time to be with friends and family, but this year keeping them safe must be a top priority, Dr. Lanier said. 
According to an Inkspot social media poll, 26% of NCHS students and staff surveyed will be gathering with people from outside their household on Thanksgiving. 
A junior said her grandmother "insists" on the family gathering, and that her family decided on visiting the grandmother because she is "coming of the age [where] this may be the last Thanksgiving [they] get."
The CDC guidelines offer what Lanier calls a "second tier option;" for people choosing to gather with others from outside their immediate family, there are several precautions they can take to reduce the risk of COVID spread.
While following the CDC's recommendations, Dr. Lanier said, "you are still possibly putting people at risk. That's the bottom line… unless they've been fully quarantined for 14 days…there's still that possibility of risk for a spread."
The junior said her immediate family has been quarantining for three weeks in preparation for the get together. 
Other NCHS students and staff who plan on celebrating Thanksgiving with extended family commented that they planned on wearing masks indoors and setting up socially distanced tables to separate members of different households. 
Dr. Lanier understands decisions to stay home are difficult and that people are dealing with "pandemic fatigue." But she believes "if we can hunker down for these next 2-3 weeks maybe we can get through this spike and things will get a little bit better."
About the Writer
Jonah Kramer, Sports Editor
Jonah Kramer is a senior at Normal Community High School and participates in Best Buddies, FBLA and cross country. This is his second year working with...