'The Show Must Go On'
Drama programs collaborate to host virtual theatre festival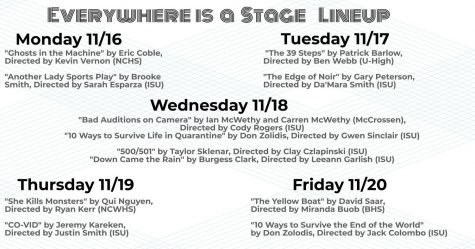 When faced with the inability to perform on stage this year, the Bloomington-Normal high school theatre programs proved "the show must go on," according to NCHS theatre director Mrs. Kevin Vernon as they participate in the digital theatre fest "Everywhere is a Stage."
"Everywhere is a Stage," a collaborative effort by actors and staff from Community, Normal West, Bloomington, U-High, and ISU, is a week-long series of free performances, short plays, and one acts streaming November 16-20. The virtual curtain rises at 7 p.m. each night for the 12 pre-recorded shows.
With the threat of COVID stripping away the ability to perform, Aashish Thakur ('21) said, "this platform means a lot," as it allows the actors to satisfy their "dying sensation to get on the stage," as well as the need to "go out and to perform and execute our craft."
Through the coronavirus's chaos, acting has been an escape for students like senior Aniya Thompson, who describes the festival as "a burst of hope."
Normal West's theatre director Mr. Ryan Kerr credits NCHS's Vernon and Bloomington High School theatre director, Mrs. Miranda Buob, with providing this hope to students. The two proposed the idea of a multi-school festival and for put "the energy behind it to get the ball rolling."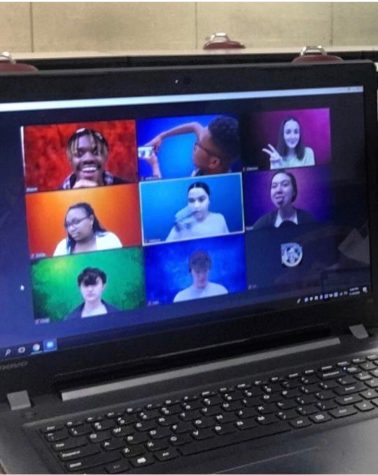 Vernon recognizes that the area's public high school theatre directors "have done something important here," stating: "It means a lot to risk and be brave in a year that seems full of fear, anger, and tragedy. When we do things together, we can make it better. Maybe that's something we need to remember more."
The four high school project allowed for over 80 student actors to be involved and collaborate, Vernon said, including Theatre Education students from Illinois State University, as well as 12 directors.
"We're all happy to give [students] the opportunity to work with one another," Kerr said, "in a new environment and with directors that they're not familiar with."
Despite not knowing each other at the beginning of the nearly three-month preparation process, Thakur, who performs in "The 39 Steps" directed by U-High's Mr. Ben Webb, said, "in the end, you become a family."
West's theatre director Ryan Kerr thinks it has been a good experience for each of the students "to see how other directors operate," he said, "and for the directors to see the professionalism and talent of the other area kids."
Ivy Goeckner ('22), acting under the direction of BHS's Ms. Miranda Buob in "The Yellow Boat," benefitted from the opportunity to hear new tips and advice from a different school's director. Additional feedback and hearing "more opinions and views on my acting," Goeckner said, "helped me grow."
The digital aspect of the performance presented bumps in the road, specifically internet connection issues. Still, despite those issues, the performers "get to show that theatre is always important, and as artists, we adapt, continually," Vernon said.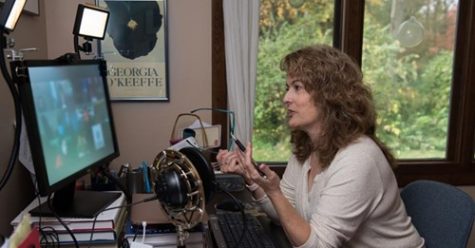 A lot of technical preparation went on behind the scenes, according to Erica Copeland ('21). "We had to drive to parks to have costume pickups," Copeland said, "and we were constantly trying to find backdrops for scenes."
The use of props and stage movement is quite different in the digital production than a physical show; but, every audience member will have a front-row virtual seat to "Everywhere is a Stage."
While the actors don't interact in person, viewers will "see some creative and innovative thinking from all of the productions," Kerr said.
As the production's opening nears closer, Copeland is feeling "pretty calm," which she said is disappointing, considering "one of the best parts of theatre is having pre-show jitters."
"We all miss the backstage rituals, and we especially miss the energy you get back from an audience, but still, it feels good," Vernon said.
"I really miss the adrenaline rush before stepping on to the stage," Copeland said. Still, she is excited to view the fully edited shows that everyone involved worked hard to create. An added benefit for the actors is the ability to see other schools' performances. Traditionally, they cannot see other schools' shows since they are all performed at about the same time of year.
In a normal production, Kerr likes to think his work as a director is done by opening night and "it's all in the students' hands." Although he has "a little more behind-the-scenes work to do" this year, Kerr said, to "make sure everything is posted and accessible."
"I've never done anything quite like this," Kerr said, "so I'd be lying if I said I wasn't a little nervous."
Viewers will find a password on the "Everywhere is a Stage" homepage, granting access to the night's shows. Donations are welcome, and event t-shirts are available to help cover the cost of production. While each play is only available for one night, there is the flexibility of watching it any time that night after 7 p.m.
"I hope we get a chance to collaborate again in the future," Kerr said, "though hopefully under different circumstances."
Despite the circumstance, Vernon said, "There's never been a more important time to connect, and there's no better way to connect than through performance."
About the Writer
Olivia Plangger, Co-Editor-in-Chief
Olivia Plangger is a senior at Normal Community and a second-year Inkspot reporter. Throughout her time in high school, she has competed on the Lady Iron...