Mrs. Elisabeth Reed, the director of the Illinois State University's Office of Sustainability, spoke to students about what happens to items that are donated, thrown away or recycled during Thursday, November 14's Lunch and Learn.
Reed focused on examining "our current consumption habits" while students "explored ways to be more sustainable and practiced being better recyclers," according to a post on the ISU Office of Sustainability's Instagram account.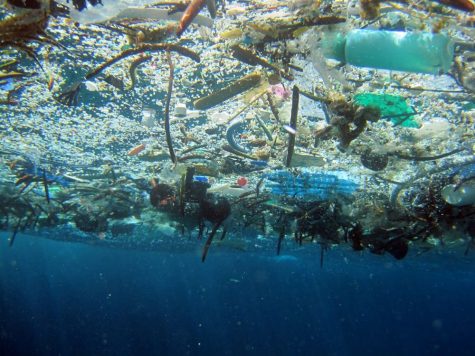 The waste that humans leave behind doesn't just disappear, "It's still here, it's still on this planet right now and it can be causing damage in some capacity," Reed said. "Just because it's not affecting you doesn't mean that it's not affecting someone somewhere else."
The Pacific Ocean is one of those somewheres – where, according to Scientific Reports, over 87,000 tons of debris and trash have collected, creating the Great Pacific Garbage Patch. 
---
Questioning Our Current Consumption Habits
"So much of our life is made of plastic," Reed said, introducing the term "single-use plastics"- plastic items designed to be discarded after one use.
Reed theorized that people use so many plastics because they believe they can "just recycle." But America's recycled items are sent to places overseas like China and Malaysia to be processed and turned into new consumer products, where they can't keep up with the rate of American consumption.
China is heavily restricting imports of American recycling, leaving it with nowhere to go. With no other options, these items end up in the trash.
In 2015, the most recent year of available national data, Americans produced 262.4 million tons of waste, up 4.5 percent from 2010 and 60 percent from 1985, according to the EPA. That amounts to nearly five pounds per person a day.
This waste eventually ends up in landfills or as marine debris in oceanic garbage patches where they "threaten wildlife through entanglement, ingestion" and they can also be hazardous to ocean vessels according to National Oceanic and Atmospheric Administration.
American's waste production doesn't only have an environmental impact but an economic on when donation's of used American clothing end up overseas. 
Reed explained that when donated to organizations like Goodwill, Mission Mart, and Salvation Army, only 10% of clothing end up for sale in-store. 70% of this clothing ends up in shipping containers and are delivered to Africa.
Once arriving in Africa, the clothing is resold, threatening local economies and replacing African culture with American donations. 
Reed stated that because of this, Africa is beginning to put bans on imports of American clothing donations. 
"We're just sending them clothes upon clothes upon clothes," senior Brice Ward said after attending Reed's Lunch and Learn.
---
Exploring Ways To Be More Sustainable
Sustainability can include reusing plastics; reducing clothing purchases and reselling clothing online instead of donating; repurposing old items; composting….
According to Reed, the Unit 5 school district is the lone school district in town that does not compost its food waste, and Reed advises students to "start asking questions," and "see how [student] can make some effective change." 
"It's steps like these," Ward said, "like getting an entire school system to compost or even one school, you know, because then you know we're setting a good example for the other people in the community."
Reed explained in order to be more sustainable their needs to less dependency on single-use plastics. 
Mrs. Fox Anvick, IMC specialist and organizer of the Lunch and Learn program said, "Let's face it, we all need to be better about things like not using as many single-use plastics and being more mindful of what we're doing. It's an important topic."
---
Practicing to be Better Recyclers
Reed offered students tips to being better recyclers: Don't recycle anything smaller than a credit card, use the phrase "Bottles, tubs, and jugs" as a guide for what items can be recycled, and buy from the store instead of ordering online to reduce the use of packaging.
Reed also encourages "Refuse, reduce, reuse, and recycle," noting that sometimes it is better not to recycle an item if it is unclear whether it is recyclable. 
Sometimes those items can put recycling facility workers at risk; those items cost the recycler money – as they pay to sort and send the material to a landfill; those items cost the recycler time – slowing down the recycling facility operations so that fewer overall materials can be processed hurting the health of the recycling process.
As part of her demonstration, Reed arranged a table blanketed in a variety of plastics, paper cups, and straws, and attendees were asked to sort these items into two groups: recyclable and non-recyclable. Almost all of the items were non-recyclable.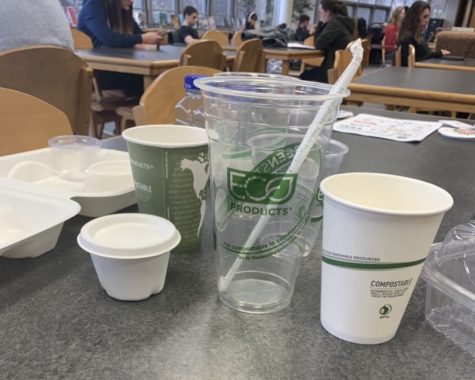 Reed explained that previously, determining whether to recycle an item included looking for the small recycling symbol at the bottom. Her demonstration challenged this idea, most items with the symbol were still non-recyclable. 
"It definitely really opens up your eyes," Ward said, "all of those little signs of recycling are little lies."
There are items Americans use every day such as lids, straws, and Starbucks cups that are recycled but are not easily or effectively recyclable items. These products end up compacted with recyclable items but are unable to be processed, another reason why China is no longer allowing America to recycle imports.
"We need to respect what we've been given, and think about future generations and how they're going to live on this planet," Reed said, "We have to recognize that it's bigger than just our daily life and our habits."