Students organize second March for Our Lives rally
Bloomington-Normal students are continuing to take action against gun violence on a localized scale in a second March for Our Lives rally, a year after the first.
17 students were killed in a school shooting at Stoneman Douglas High School in Parkland, Florida on February 14, 2018. This mass shooting sparked March for Our Lives, a student movement promoting gun safety at a national level.
Normal Community members of Not in Our School and Peace and Justice club organized a walk out and participated in a March for Our Lives rally with hundreds of other students and adults in support of gun control last spring.
Gun safety hits a little closer to home in Bloomington-Normal after the school shooting at Normal Community six years ago and the spike in youth gun violence in 2018.
This year's rally sought new perspectives in the conversation around gun control by asking not just students, but teachers and parents to speak about local issues.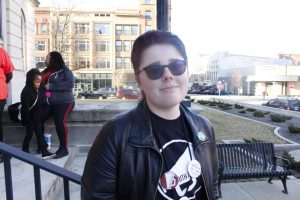 "The goal of the rally," Ari Whitlock (9) said, "was to draw attention to an issue that affects everyone"
Dameca Kirkwood spoke about the death of her son, Trevonte Kirkwood, a 27-year-old father. "I am angry, but more so, when I look today it opens my heart," Kirkwood said tearfully, "if we keep doing what we do, maybe we can get our community back together."
Bloomington Mayor, Tari Renner, spoke highly of the importance of youth summer employment programs in combating local gun violence.
"These programs teach youth the value of work, self-confidence, and the value of a paycheck," said Renner, "as well as integrating them into the community."
Over the course of the rally, an emphasis was placed on the progress made since last year's March for Our Lives. In Illinois, legislation has passed to provide funding to urban gun violence prevention and allow family members and police to petition for the removal of firearms from at-risk individuals. On a national scale, bump stocks (a device that allows a gun to fire more rapidly), were banned. The ban, reclassifies bump stocks as machine guns, making them illegal to own or purchase.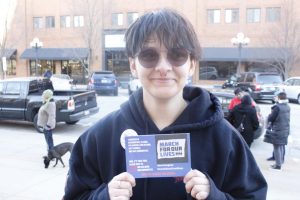 According to the Pantagraph, no bump stocks have been received by local law enforcement as of March 27, 2019, despite the March 26 deadline. Though this may be concerning, students are not giving up hope.
"It makes me happy," Isa Woodard (10) said, "that people are continuing to speak, despite time having passed."
About the Writer
Kim Halm, Staff Reporter
Kimberly Halm is a senior at Normal Community High School who participates in theatre and engineering. This is her first year as a staff reporter at the...