Memorial honors former student killed in action
2013 graduate Sgt. Josh Rodgers is remembered through a memorial on school grounds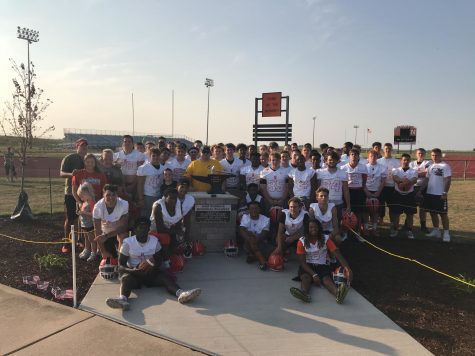 Sergeant Josh Rodgers, a 2013 graduate who was killed in military action, has been honored with a memorial on school grounds. Constructed during the summer of 2018, a hammer and anvil, tools of the iron forging process, now stand on the walkway between the outdoor locker rooms and the track.
Sgt. Rodgers, an Army Ranger, was deployed on his third tour of duty in Afghanistan when he was fatally shot during a three-hour firefight on April 27, 2017.
Rodgers, as a student, was described as a quiet, but strong leader. The decision of where to place the memorial in his honor was not difficult. Rodgers was a four-year member of the football team and a member of the track team.
The dedication and hard work that Rodgers showed as a member of NCHS athletics carried over into military training, where he passed three schools without having to retake any of them; which is fairly uncommon according to his family.
The football team initially recognized Rodgers through stickers on their helmets but wanted to do more to represent Rodgers and his role in the sports program. Coach Jason Drengwitz, head football coach, worked with the Rodgers family to plan how they could carry Josh's legacy further.
After planning for the memorial for more than six months, the Rodgers family and Coach Drengwitz had arrived at a design that would represent Josh. The anvil and hammer were chosen because Rodgers was an example one of the school and football program's slogans "iron sharpens iron."
Coach Drengwitz wanted to instill the type of leadership Josh had as part of the Ironmen into the next generation of football players. Drengwitz described Rodgers' character by saying, "If someone had to run extra, he ran extra with them." Rodgers exemplified what leadership should look like amongst Ironmen.
What really set Rodgers apart, Drengwitz said, was that he kept to himself most of the time, but he went above and beyond of what was expected of him, in both high school and in the military.
Drengwitz said that Rodger's belief that "no job is too small for you to do" is an example worth following.
About the Writer
Sarah Boose, Staff Reporter
Sarah Boose is a junior at Normal Community High School, she participates in orchestra at school. She is entering her first year in Inkspot, making her...