Staff seeks new ways to showcase diversity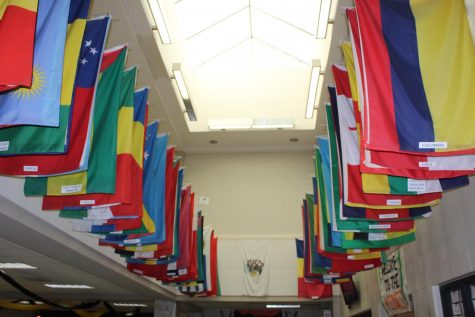 Principal Trevor Chapman is considering replacing the world flags that have been hanging in the atrium for over 10 years with current student artwork. The world flags hang in representation of the student and staff diversity at the school. Chapman acknowledges that displaying artwork will show the diversity in a similar way that the flags currently do.
NCHS wants to acknowledge the school's past, but also wants to recognize current and future students. "Is there something," Chapman said, "that represents our students now? Things change over time. We don't want to forget that, but at the same time, we want to show the things we are about."
If the idea to remove the flags in the atrium happens, Chapman believes it would be a good idea to incorporate the flags in another area of the school by showcasing a few each week. In this way, the flags would not be completely eliminated, but they would be shown in a different and more effective way.
"[The flags] are a mile wide but an inch deep. They are there, but we don't do anything with them," Mrs. Katie Lopez, Social Studies teacher, said. "At their root, the flags are cool. I think there could be more; maybe they could highlight certain flags at certain times of the years based on religious holidays, cultural events, or things that are happening around the world."
Lopez and Chapman believe that showcasing a few flags at a time will help give recognition to the foreign exchange student population. By focusing on different flags, students and staff could become more aware of where people in the school have traveled or lived, while becoming more culturally conscious.
"We typically take five foreign exchange students a year," Chapman said, "[Normal Community students] don't know much about them, so we could potentially highlight the students in that area that are from other countries."
By displaying them in this way, students could become more familiar with the flags and the countries represented by them. The flags and students would get the recognition that they deserve because people would pay attention to them instead of just walking under them.
"
They should stay, but I do understand wanting to celebrate people here rather than all around the world"
— Emma Williams
"They should stay, but I do understand wanting to celebrate people here rather than all around the world," Emma Williams (12) said, "but I think now more than ever we need to acknowledge that there are people in different places and that we should celebrate all of them including ourselves."