NCHS welcomes ten new teachers to the staff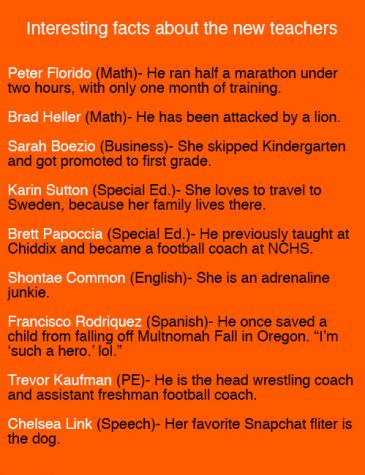 Ten new teachers were welcomed to the Normal Community High School staff at the beginning of the 2016-2017 school year.
After the 2015-2016 school year, there were several openings due to the retirement of teachers, such as English teacher Mary Jespersen.  With the large number of incoming freshman, more teachers were needed to accommodate the influx, as well.
After about three weeks of teaching, the teachers are starting to settle in.  Shontae Common, an English teacher, states, "So far, I have two favorite parts of teaching here: the welcoming and friendly staff, and getting to know the students of the Bloomington-Normal area.  Everyone has been incredibly welcoming, nice, and helpful."
Though she is a new to the NCHS staff, Chelsea Link, a speech-language pathologist, has a bit more experience.  She attended NCHS as a high school student, and also completed her internship at Community.  She states, "Even though I went to NCHS, there is still a lot to learn about the school.  It's definitely different being on the other side of things!"  
Starting at a new school can be difficult, but so far the new teachers have found the transition to be seamless.  Peter Florido, a math teacher, states, "I'm still getting used to things, but the math department has been a great support to me… They make me laugh endlessly, answer my 'new teacher' questions, support me whenever I need help, and bring in treats to share with everyone now and then."  He adds that they have made the transition "a breeze!"
Along with the math department, Principal David Bollmann was a big part of Florido's smooth transition.  Each new teacher went through an interview process with Bollmann before being hired.  Florido states, "During my interview, Principal Bollmann really emphasized the school's mission statement of 'A community of learners pursuing personal excellence every day.' I really felt connected to this and could see myself working towards that mission at NCHS."     
Sarah Boezio is a new business teacher, and is also a varsity cheer coach.  She states that being a coach has made the transition to a new school and career much easier.  Cheer practice begins in the summertime; because of this, Boezio had the chance to meet students before she started teaching.  "It's been great to get to know both students and families in the community."  
Now that the teachers have been officially hired, they have the opportunity to educate the next generation.  Trevor Kaufman, a new Physical Education teacher to the building, states that he looks forward to offering resources and a positive influence for his students, just as his teachers did for him.   
Francisco Rodriguez, a Spanish teacher, was previously stationed in Afghanistan.  He states that "…education is the best tool for personal and social success. I learned so much while I was in Afghanistan and I came to value education so much because I saw how brave school girls had to be in order to simply get an education."  
As each day passes, the new teachers are becoming more accustomed to the NCHS.  Their classrooms are beginning to take shape, and teacher-student relationships are beginning to form; they are completing the NCHS family.  In the words of Miss Boezio, "I <3 NCHS!"
About the Writers
Melissa Schill, Editor in Chief
Melissa Schill is a senior at NCHS. This is her third year working for the Inkspot, and she is the Editor in Chief. Melissa is also involved in the Principal...
Corinne Monroe, Managing Editor
Corinne Monroe is a senior at Normal Community High School. She is Managing Editor for the Inkspot. I love to play softball. My biggest pet peeve...