NCHS students learn about locally sourced food
Local farmer Bill Davidson spoke to NCHS students about the benefits of eating locally sourced, fresh foods during their lunch hours for a "Lunch and Learn" meeting on Tuesday, January 12.  Davidson spoke about initiatives occurring in Bloomington/Normal that are aimed to create more opportunities for community members to support the local food industry.  Students participated in a cornbread taste test that demonstrated the difference between local ingredients versus more commercialized ingredients. 
Farming is prevalent in the Bloomington/Normal area, where corn and soybeans make up the majority of the crops grown.   Similarly, corn and soybeans make up about 52% of all cropland nationwide, bringing in more than 17 billion bushels per year according to USDA forecasts.  Using corn that was grown in the Bloomington/Normal area, Davidson baked cornbread that was nutritious and supports the local food industry. Students compared its taste to the taste of Jiffy cornbread, a common type of cornbread found in national grocery stores. Students called the Jiffy cornbread "sugary", and described Davidson's cornbread as "moist" and "fresh".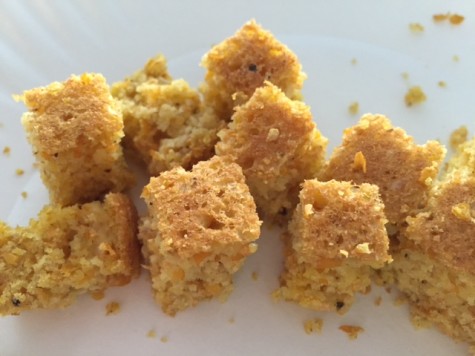 Students also compared the ingredients in the homemade cornbread to the ingredients in the Jiffy cornbread.  The homemade cornbread is created with minimal ingredients while Jiffy cornbread is made from a slew of ingredients, many of which are not natural and are genetically modified. ….  Ingredients include many preservatives such as BHT preservative and tocopherol preservative.  The corn that is put into the mix is altered – the germ from the corn has been removed.  By removing the germ, the bread's shelf life is significantly extended but all nutritional value that it once held is removed.
The government pays billions of dollars to large agricultural companies, according to Plate of the Union, an organization dedicated to reforming the American food system.  These companies produce crops that are altered into cheap, non-nutritious produce, such as the corn used in the Jiffy cornbread.  As a result, the local farm industry struggles to find a place in the market.
An advantage of eating locally is the consumer is supporting local farmers and the local economy.  Another advantage is by eating locally sourced food is the consumer knows where the food is coming from.  This gives consumers the security of knowing that the food they are eating is fresh and healthy.   
Davidson informed the students about some challenges that arise with eating locally.  Cost is a big problem.  Americans are offered a wide variety of very cheap but very unhealthy food options, such as fast food.  Eating locally sourced food is pricey, because of its high quality.      
In Bloomington/Normal, there are many programs that encourage community members to support the local farming industry and educate them on the benefits.  The Refuge Food Forest, located in Normal, is a park filled with organic fruit trees, vegetables, and herbs for consumers to pick.  At the Normal Public Library, a seed library is available for citizens to take seeds to plant, or leave seeds for others.  Epiphany Farms Restaurant and Common Grounds Grocery Store are small businesses that offer food from local farmers.
Epiphany Farm's mission statement is in alignment with the mission statements of these other businesses.  "We are committed to supporting, growing, and showcasing a thriving local food culture.  We serve as an anchor for a network for local food producers by increasing community awareness of locally sourced ingredients… and providing a positive model for responsible stewardship of the land that nourishes us."
About the Contributor
Melissa Schill, Editor in Chief
Melissa Schill is a senior at NCHS. This is her third year working for the Inkspot, and she is the Editor in Chief. Melissa is also involved in the Principal...