Krog-more: Couple welcomes second child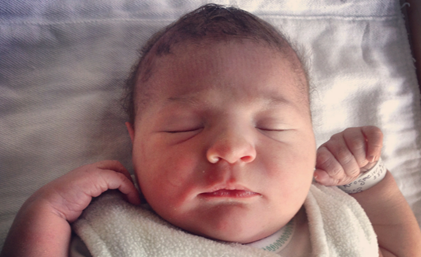 Baby Watch 2015 came to a close Thursday night at 8:53.
It was Axel Lee Krogmeier's arrival that marked the end of this era of anticipation.
English teacher Paul Krogmeier coined the term "Baby Watch" to describe the the days leading up to, and eventually past, wife Kristen's due date. The couple welcomed their second child more than a week after they initially expected the arrival.
Paul and Kristen tried some of the old standbys in an attempt to speed along Axel's arrival: spicy food and long walks throughout the weekend. But the couples attempts were in vain.
It was Buffalo Wild Wings that the couple believed help induce their son Case, who will be two in December, but their trip to the restaurant on October 30 didn't pay off.
Thursday evening at 8:11, Paul alerted a colleague that his wife had gone into labor. Within the hour, the 7 pound 12 ounce child had entered the world.
Within 5 hours, Paul emailed his 3 pages worth of sub plans.
Axel Lee measured 20 1/4 inches at the time of his birth.
Paul's sub plans measured 25 1/2 inches at the time of their printing.
According to an email from Krogmeier: "mom and baby are both doing great."
About the Contributor
Inkspot Staff, Inkspot Staff
Stories published under Inkspot Staff are unattributed to a single reporter because they: have been produced through a collaborative staff effort; individual...