Succeeding in Speaking
For many students, high school is tough. There is classwork, sports, clubs, and extra curriculars. However, junior Neharika Pentmetcha, does it all- and succeeds in doing them. Recently, she qualified for the IHSA Sectional Speech tournament in Charleston, Illinois.
Most typical Saturdays are spent hanging out with friends, going out and taking a break from the daily grind. However, for Speech Team members, Saturdays are spent getting up at early hours and driving to Speech Tournaments held at schools across the states which are filled with hundreds of students fighting for a chance at winning a medal or plaque. Speech Tournaments last all day and most speakers go home empty handed, given that there is so much competition. Despite the difficulties, there are many members who stand out and succeed in speaking, including Neharika Penmetcha.
Neharika Penmetcha has been apart of the NCHS Speech Team for three years and is a recognized speaker, making it to the Sectional level twice. She performs in two events, "Impromptu" and "Original Oratory".
Impromptu is an event in which speakers are given three quotes or ideas to choose from, and two minutes to create a six minute speech. It's one of the most high-pressured events alongside Extemporaneous Speaking, given that they are both limited preparation events.
Original Oratory is a full blown persuasive speech, which informs and convinces the audience on a certain topic. Penmetcha's Oratory speech was about stereotypes and how they're still prevalent today.
Penmetcha joined the speech team at NCHS after being a part of Chiddix's Speech Team, which was for kids who had a fear of public speaking, and thought that the NCHS Speech Team was the same thing. She was surprised to find out that it wasn't but continued anyways.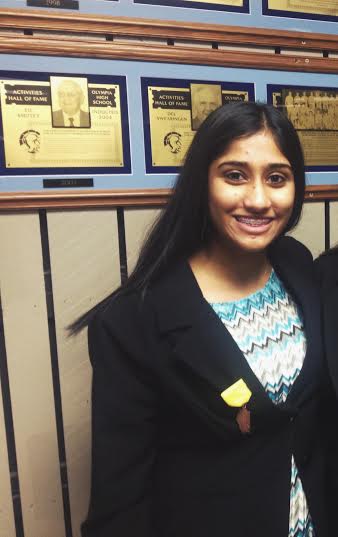 She stated that "I really like the team bonding aspect here. I love how all of us can come together as a group, and we all have unique abilities. NCHS Speech Team is really broad, there's not just formal speeches..there's comedy and drama events, so there's really an event for everyone."
After qualifying for sectionals, Penmetcha stated that "It (qualifying) felt amazing. I feel like I ended my season on good terms."
Penmetcha is a beloved member of the NCHS Speech Team, and an appreciated varsity member. Junior Kelli Tilford, who has known Penmetcha since her freshman year, stated that "Neharika is so talented! She's so good at what she does, and can think of a great Impromptu speech on the spot. Not a lot of people can that."
Both Tilford and Penmetcha have watched each other progress into distinguished and talented performers. "Neharika has a lot of talent. She can talk about current events, books, and films in Impromptu, but also perform an amazing poetry program."
Junior Zack Moravec, who has been on the team for two years went on to say "She has really high expectations for herself, and often thinks that she does poorly at tournaments yet she ends up doing really well."
Penmetcha is an active member of not only the NCHS Speech Team, but Key Club and Tennis. She also is in multiple AP classes and bears a heavy workload. However, despite the overwhelming responsibilities, Penmetcha still retains a great work ethic and gives everything her all.
Sophomore Kate Hollingsead, who joined the NCHS Speech Team this year, stated in regards to her work ethic that "I think she works harder than a lot of us."
Fellow Sophomore, Shubhang Desai "I think she works really hard and balances a lot of things very well and it shows in her consistently excellent  performances."
Despite the regular season being over and state series just finishing up, Penmetcha is already looking towards next year and looking for new ideas and has even bigger goals. She stated that "I'd like it to make it to state next season, I feel like that would be a great way to end my senior year."
About the Contributor
Ashley Kennedy, Staff Reporter
Ashley Kennedy is currently a senior at Normal Community High School.  She is apart of her school's Speech Team and is an Inkspot Staff Reporter.

Favorite...