Meals on wheels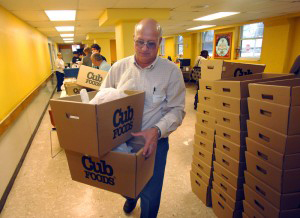 In 1917, Billy Shellper founded the HomeSweetHome Mission. HomeSweetHome is a Christian organization that helps those in need. Now, 95 years later, people are still helping the HomeSweetHome deliver their mission to help those the needy providing thousands of hot meals annually.
During Thanksgiving, the Mission helps serve our community by making, packing, and delivering meals to those in need or not able to fix their own Thanksgiving meals. This Thanksgiving day there were 200 volunteers alone and more in the last two weeks in effort to put together the delicious meals. Many families and individuals gathered together at the HomeSweetHome Missions on Thanksgiving morning to sit and enjoy the live holiday music together while waiting for their route to be called to go deliver the meals. While these volunteers were being entertained, there were others in the back putting together the meals for the routes, as well as cooking the meals that day to keep them hot for the precipitants. The volunteers were hard at work trying to make Thanksgiving a joyous day for everyone. Last year, there were more than 2,000 volunteers throughout the year. It goes without saying that the HomeSweetHome Mission brings the community together to help one another.
Mary Ann Pullin, CEO of HomeSweetHome Mission, has been serving with the mission for four years. She was more than happy to share her talents with the mission. She expressed to us that she got involved with HomeSweetHome Mission four years ago because it helps her get involved with the whole community. "People from all different kinds of walks come to help one another," Pullin says with a smile.  Because of the Christian values and the work of the mission, she was drawn to help in anyway she could.
This Thanksgiving Day, many people in need enjoyed warm, home cooked meals thanks to the HomeSweetHome Mission and their wonderful volunteers. This simple act on Thanksgiving morning can mean the world to someone in need of a smile, a meal, or just someone to visit with.
If you would like to get involved with HomeSweetHome Mission's Thanksgiving festivities or any other HomeSweetHome volunteering opportunities to help your community grow closer together, visit their website at hshministries.org for more information. They are always looking for people to help. Get involved with the community and help those in need.
About the Contributor
Lindsay Gleason, Expressions
Lindsay Gleason is a junior at Normal Community High School. She writes for the Inkspot and works with the Expressions desk, which is an awesome area...