As the seconds ticked away, the clock inching evermore close to midnight, Brooklyn Latimer ('24) sat in her red satin pajamas, alone in her room, a blanket wrapped around her.
Thursday, October 20 was slowly transforming into Friday.
Sophomore Mimi Calmes, exhausted from the school day, had just returned home from her performance in the fall play "Failure, A Love Story."
Calmes sat in her mother's room, staring at the math homework she had yet to start — the blank spaces before her.
A few miles away, Mr. Paul Krogmeier was sound asleep in his bed.
It's 11 o'clock Central, midnight on the east coast, and Latimer has red lipstick on, her iPhone out—Notes app open, ready to record her thoughts.
Latimer pulled her "folklore" blanket tighter against her "Red (Taylor's Version)" satin pajamas — the wall behind her covered in posters from each era of Taylor Swift's career.
It was time—time for "Midnights"—Taylor Swift's 10th original studio album.
Across Bloomington Normal—the country, the world – die-hard Swift fans put their earbuds in, their headphones on, and turned their speakers up.
Charlotte Bihun ('25) was forced to wait.
Bihun, competing in the Illinois State Marching Band Championships that weekend, decided to sleep, saving Swift's 13 tracks about sleepless nights for the morning.
When she woke, Bihun's air pods were in as soon as she started getting ready.
Taylor Swift's lovers—Swifties like Latimer, Calmes and Bihun— and more casual listeners, like Krogmeier, would help Swift make history—Swift would hold all Top 10 spots on the Billboard Hot 100 at once, making the 32-year-old the first artist to accomplish such a feat in the chart's 64-year history.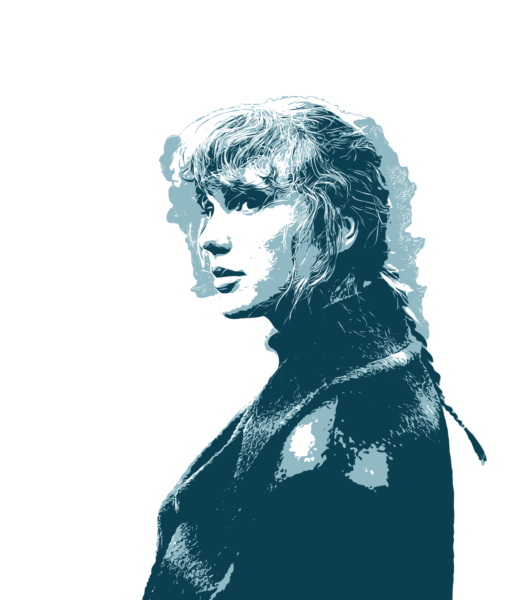 But that's just one achievement—"Midnights" would make Swift the female artist with the most top 10s in the chart's history with 40, second only to Drake's 59.
Swift's accolades, achievements and accomplishments are earned—a credit to her artistry. Swift's legion of listeners know those talents all too well—storyteller, songwriter, genre-blender, business woman…
That reputation, Community's Swifties feel, is well-deserved.
It's why Latimer has attended every Swift tour for the last decade; it's why she listened to over 200 hours of the multi-genre artist in 2021 alone.
As she pressed play on "Midnights" she anticipated listening to Swift's "record of all records."
Picking up her phone, Latimer was ready to write each and every thought she had listening to the album.
She didn't write a word.
"I ended up just being too shocked," Latimer said. "I didn't type anything."
Latimer was excited that seven-time Grammy award winner Jack Antonoff was "Midnights'" sole producer. Antonoff and Swift have collaborated together on her five previous albums. The pair would co-write 11 of "Midnights" tracks.
"'Midnights,'" Latimer believes, is "some of their best work."
"I love Ja-lor," Latimer said.
In less than a week after the album's release, "Midnights" quickly became one of her favorite Swift albums. Its definitive ranking Latimer would need time to determine, saying she still needed "four business days to process."
Some fans chose to dream instead of waiting for the "Wildest Dreams" artist's newest album—Krogmeier slept during the release. However, he hasn't been sleeping on the artist's talents.
"She's the best storyteller we have," Krogmeier said.
Swift is a "generational talent," in Krogmeier's eyes, a talent that outshines any cinema storyteller today. She excels at "making you feel like you're in her world."
"Midnights," an album streamed 184.6 million times in 24 hours, Krogmeier felt was "poetry in motion."
Calmes felt the album was "such a 'me' album"—that it was written specifically for her.
"A lot of her songs are situations that are specifically relating to her life," Calmes said. "But it still [has] themes that people can relate to. Not everyone dated Jake Gyllenhaal, but everyone resonates with 'All Too Well' so much."
In Swift's writing, Calmes thinks, "people can relate to and find themselves," and "Midnights" is no exception.
"This is just another year-defining album for me," Calmes said.
Swift's most recent collaborations with producer Antonoff—"evermore" and "folklore"—marked transitions from Swift's more traditionally "pop" tracks, further demonstrating the artist's ability to jump from genre to genre.
Latimer credits Swift with an "ever-changing sound," the artist's reinvention she thinks prevents Swift's fans from growing "tired of one sound."
Swift began her career as a country artist, singing about "Tim McGraw," now the artist has delved into hip hop on "Bad Blood" with Kendrick Lamar, she's recorded soul-styled ballads like "Lover," indie synth-pop tracks with Bon Iver…
Krogmeier believes it's "shocking" how many successful albums Swift has put out compared to other artists who put one good album out but "can't keep it going."
"She's come up with 10 of these in a row," Krogmeier said. "It's unbelievable."
"She just has a song for every mood," Bihun said. "No matter what I am feeling, I can listen to her. Some artists are only for when you are happy or only when you are sad. I think Taylor Swift just encapsulates all my moods."
With "over 210 songs," Latimer said, everyone can "find at least one" track that speaks to them.
Swift's variety, her maturity—her evolution as a writer—is what Bihun thinks "makes her stand out."
Krogmeier has seen Swift mature as a performer firsthand. The teacher first saw Taylor Swift when the singer was in her country era, touring on Rascal Flatts' "Bob That Head Tour 2008." At the time, Swift was "just a cutesy little thing" when she sat up on stage singing her eight-song set.
"Her voice was so bad," Krogmeier said. "I challenge anybody who was at that show to think that she was going to be where she is today."
Bihun, too, respects Swift for her growth.
"She's come so far," Bihun said—from a small-town girl (from West Reading, Pennsylvania—population 4,212) with surface-level lyrics, singing about "teenage romance" to an 11-time Grammy award winner, three for Album of the Year, selling over 114 million albums worldwide.
"She is the essential pop idol of the decade. She slays," Bihun said, no matter what she puts out.
It's been 14 years since Krogmeier first saw Swift on the Peoria Civic Center stage. The artist has added 221 songs to her catalog. Today, that small-town girl, Krogmeier said, is "a sensation and everyone knows [her] name."
Everyone knows the name, perhaps, because Swift is a mastermind at marketing.
"Before anything," Latimer said, "she's a businesswoman."
From her social media posts, her Easter eggs, her album product lines selling everything from pajamas to cardigans to controlling her master recordings — Swift's business acumen can't be disputed.
The announcement of "Midnights" caught most of Community's Swifties by surprise —they expected another "Taylor's Version" recording.
Credit Swift, the businesswoman, for keeping her fans on their toes.
Mere hours after "Midnights" dropped, Swift released seven more tracks—the "3 a.m. sessions."
That was "a real shock" for Latimer.
"We basically got a whole other album," she said. "I love, love, love, the '3 a.m.' tracks."
Swift, undoubtedly, knows how to deliver to her fans.
But Krogmeier, a few years older than Swift, feels like her high school fans are missing out a little with Swift's more "mature" recent work.
"You have to listen to her in this firmly adult age" — singing about very real adult struggles. Krogmeier "grew up with Swift," going through some of the same struggles, the same things, the same stages as her.
"All the songs on ['Midnights'] are very deep," Krogmeier said—struggles of keeping it together, of breaking apart, feeling like a monster, feeling jealous, feeling out of place…
The depth of "Midnights" doesn't seem lost on Swift's audience.
The album broke hearts, records—and Ticketmaster.
14 million fans of the storyteller, the songwriter, the genre-blender, the businesswoman, logged online for a chance to see the megastar live, for tickets to 2023's "The Eras Tour" — crashing its servers and leading to the cancellation of regular ticket sales.
To her fans unable to get tickets, this news was devastating.
But it is the result of her devastating talent —Swift is in a stratosphere of stardom all by herself.