One name was noticeably absent when 1st Team All-Big 12 football honors were announced for the 2021 season.
An omission that didn't get past veteran Ironmen coach Mr. Bryan Thomas. 

The missing name? Cooper Kearfott, one of the Ironmen football team's ball boys.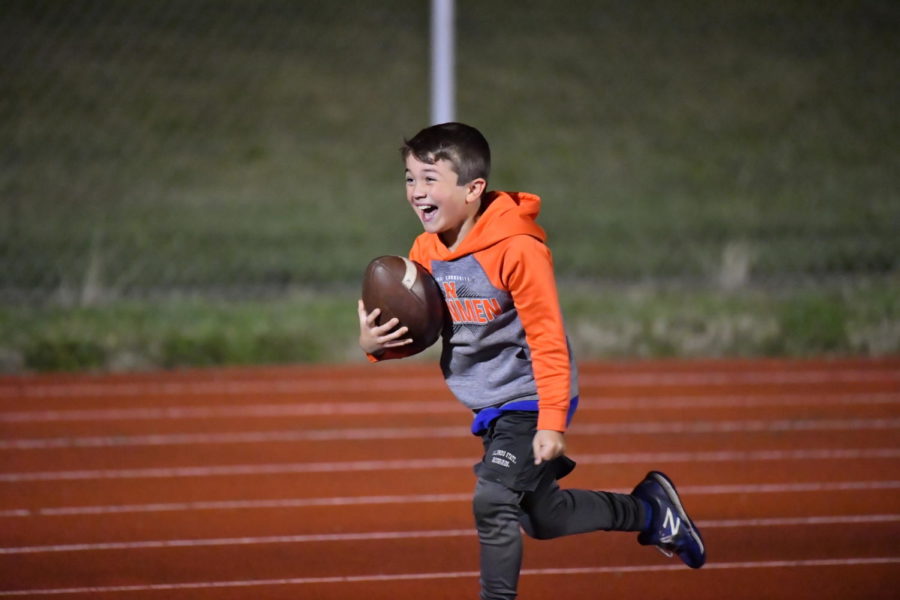 Cooper has grown up attending sporting events his whole life — all 10 years of it (10 ½ years of as he would put it.) Cooper's dad, Mr. Nic Kearfott, is serving his 18th year as an Athletic Director, his fourth at Community.
When it comes to Friday night lights, when the average elementary school student is playing with their friends behind the bleachers, Cooper is behind the endzone catching game balls coming off the foot of Community kicker Ryan Millmore. 
Standing behind the uprights as a D1-caliber kicker launches the ball through the air, and through the goalposts, Cooper positions himself to make the catch, even diving for it when he has to.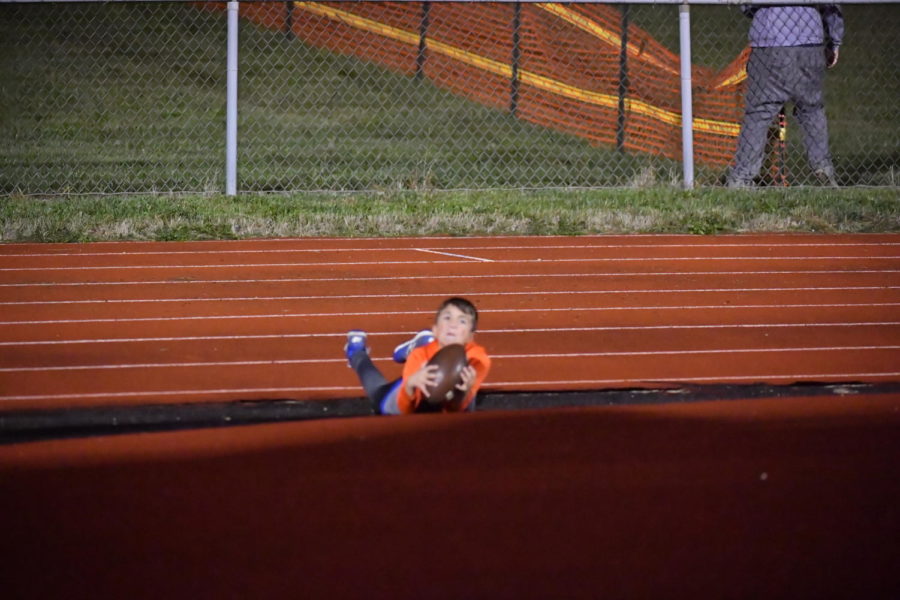 ---
Loud. 
This is the first word that comes to mind when Cooper envisions himself at an Ironmen football game. The buzz of a few thousand people might make some 10-year-olds nervous. If he's nervous, he doesn't show it.
With the Ironmen going undefeated in the regular season, and several home games ending up as blowouts, Cooper gives fans something to watch for when the outcome on the field has long been decided. 
Cooper's small hands make the ball look massive, and the weather conditions weren't always favorable this year. Cooper and the Ironmen battled through lots of rain and of course the cold. 
This didn't stop him from catching all five of Millmore's extra points in the Ironmen's home victory over Champaign Centennial on a night where the rain spit sideways, and both teams committed to running the football due to the conditions. 
And, like when a Community player scores a touchdown, Cooper's successful catches don't come without celebration, from big smiles to shouts of elation.
That passion, that excitement, that competitiveness is a part of Cooper. 
Off the field in Mrs. Luering's fourth grade class at Northpoint Elementary, Cooper can't contain his bubbly personality. 
During a guest speaker's presentation, proudly sporting a Carolina Panthers jersey, Cooper listens attentively as if watching the long snapper hike the ball to the Ironmen's holder.
"Does anyone have a guess on how much this drone costs?" the speaker asks. 
Cooper's hand shoots up. 
He guesses $20,000, and just like when catching Millmore's kicks, he doesn't miss. 
"Yes!" Cooper exclaims, pumping his fist. 
"We count on him to make us smile and laugh each day," Luering said.
And on Friday nights, Cooper's responsibility as ball boy, his commitment to returning footballs to the officials to keep the game moving in a timely manner, doesn't take away from his youthful exuberance.
After the Ironmen's playoff victory over Blue Island Eisenhower, he dove across the mud soaked field, covering himself in the brown muck just like the football players themselves, including some of Cooper's favorites: his brother Connor Kearfott, the Niekamp brothers, and Calen Drengwitz.
Cooper is "just a super happy kid," Calen Drengwitz said. "He really enjoyed being out there and being around all of the high school guys."
After cheering for his favorite Ironmen on Fridays, Cooper gets to play alongside them on Sundays. 
Family friends with the Drengwitzes and Niekamps, Sundays, "they let me play football with them after the NFL games," Cooper said.
"
"[Cooper] is younger, so honestly he hasn't found the cheerleaders yet. They're all pretty energetic until around 6th [or] 7th grade."
— Mr. Bryan Thomas
Cooper joins the ranks of a long history of Ironmen football ball boys who were sons of Community's athletic football staff, including Calen.
Thomas, who's son Jamal started serving as ball boy at 3-years-old, said, Cooper "is younger, so honestly he hasn't found the cheerleaders yet. They're all pretty energetic until around 6th [or] 7th grade."
If history repeats itself, Cooper's hopes of one day donning an orange and black helmet on Friday night's look pretty promising, as both Calen and Jamal went on to play varsity football for Community.
 Cooper is already a multi-sport athlete, playing basketball and Game 7 baseball, with plans to suit up for the Bloomington Cardinals football team next year.
Whether or not he ever plays a down for the Ironmen, he will continue to be a valued member of the football program. 
"When you watch kids like that walking around with that type of energy it just lifts the team up," Thomas said.
"He's there early [and,] he stays late with a smile on his face no matter what is going on in the game," Thomas said. "He is there to give you a fist pound or a high five."
Will he be back to brave the weather, inspire the team, and excite the fans again next season?
"Definitely."