Adding a closet into the MIX: ISU alum on radio hosting during COVID
Shifting from a spacious radio studio to a close-quarters closet did not faze Chris Petlak, host of Chicago's 101.9 THE MIX's evening radio programming when the Stay at Home order was issued in March. Although the circumstances looked unusual, Petlak's wife's closet's sound quality was the best his home could offer: "It's the quietest room in the house, and in a pinch – a small room filled with clothes help[ed] to dampen the sound well."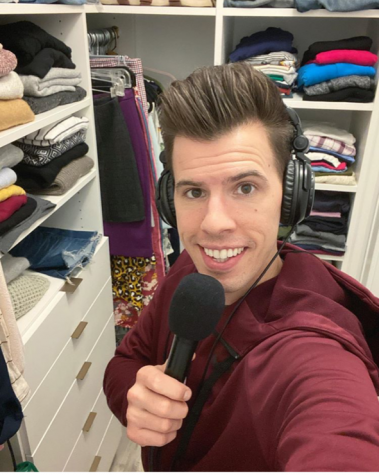 No matter where Petlak, an Illinois State graduate, was producing content, WTMX THE MIX delivered its trademark blend of top 40 pop music and pop culture content to listeners across the Chicagoland area.
Despite social distancing regulations, each night's show featured Petlak's favorite aspect of being a radio host: "being able to connect with people." As listeners called the show, Petlak would answer questions across trending topics and share "new music with people every night" sitting among his wife's clothing and shoes.
Connecting with an audience comes naturally to Petlak, who also is a standup comedian, podcast host, and creator of the 2016 show The Jamz starring Kathy Najimy of Hocus Pocus fame.
Creating multimedia content wasn't new either to Petlak, who also serves as WTMX 101.9's Director of Digital Content, putting him in charge of the radio station's social media accounts.
The challenge was how to do those things in the new circumstances the pandemic had created?
Before the COVID crisis, Petlak began his workday at home, calling into meetings with his team to discuss the station's shows and their digital content for the week.  After arriving at the office, collaborating with his colleagues and crafting content, Petlak would normally take a short walk to clear his mind and shift from his role as "Director of Digital Content to Mix Nite Guy Chris Petlak."
Going on air weeknights at 7 p.m., Petlak valued his walks for mental preparation, which were initially restricted by the pandemic.  When COVID hit, Petlak swapped his strolls through the city with video conference calls. Regardless of the challenges, Petlak remained committed to putting out the best content possible.
His role as Director of Digital Content led to new opportunities for content including posting a haircut his wife gave him on Instagram and videos featuring his dog Roscoe.
Regardless of the chaos society was battling, Petlak sought out "the chance to make a new person laugh [on each show]" which really excited him.
With physical contact restricted for essential workers, social media and technology were invaluable resources that "made all the difference" in Petlak's ability to connect to his audience.
Remotely, Petlak was able to interview celebrities, including SHAED, Noah Cyrus, and Alec Benjamin, all from the comforts of their homes. Interviews that might not have been possible if the artists were on the road touring.
No matter the conditions, Petlak loves being a radio host, as it's "a lot of fun and a great way to share new music and entertainment with an audience," he said.
Through Petlak's on-air interviews with songwriters and artists, he realized that new music would continue to flow into production due to the extra free time artists have during the quarantine.
From artist interviews to listener calls, Petlak credits THE MIX's production team in helping deliver seamless content during the Stay at Home order, who went about their roles with attention to detail. They ensured that the audio was recorded at the right speed and quality, helping Petlak's voice reach the airwaves.
Confined in his closet with his computer, iPhone, and microphone, Petlak's colleagues manage the behind the scenes of THE MIX as he hosted the show from 7 p.m. to 12 a.m. every weekday; a full team effort in bringing a cleanly produced show to 101.9 FM.
Though working from home presented unusual and unexpected challenges, Petlak emphasized that safety remained the station's first priority during that time.
Petlak, positive as ever, found a clear signal among the static, noting that: "I think this time working from home has been a massive learning process for a lot of us – but it's also been a time of amazing opportunity and growth."
The MIX hosts have returned to the studio and Petlak has indeed found a new opportunity. In mid-June, the station announced that he would take over the station's afternoon spot from 2-7 p.m., replacing Kevin "Koz" Koske, who hosted afternoons for 16 years.
About the Writers
Olivia Plangger, Co-Editor-in-Chief
Olivia Plangger is a senior at Normal Community and a second-year Inkspot reporter. Throughout her time in high school, she has competed on the Lady Iron...
Mantra Dave, Staff Writer
Mantra Dave is a senior at Normal Community High School and the captain of the varsity speech and scholastic bowl teams, as well as a four-year member...