Language clubs host annual gingerbread house contest
The annual gingerbread house building and decorating contest was held after school on Thursday, December 12, with students from the Spanish, German, and French clubs competing for the ultimate prize: a gingerbread man trophy.
This event honors the European tradition of gingerbread house making which began during the 16th century while allowing students to enjoy a collaborative experience.
"It's just fun to do and it's especially something fun to do this time of the year with finals coming up," German teacher Ms. Frau Schnabel said.
The three language clubs split up into different classrooms, and within each room, students formed teams of 2-5 people. Then, teams had 40 minutes to build their gingerbread houses using graham crackers and icing, which was provided by the teachers. Additional edible materials had to be purchased by students who wanted extra candy decorations on their houses.
Traditionally, those who participate in the contest are members of one of the three clubs; however, anyone was welcome to compete.
"We always adopt students along the way," Schnabel said.
While some students came to enjoy the candy and participate in friendly competition, others saw the additional benefits the contest offered.
"I thought it would be a good opportunity to meet new people and also get engaged with my teacher, she'll save my grade," Josh Heier ('20), German club member, said.
Amanda Gravelle ('20) and Sheri Stewart ('20), last year's winners from Spanish club,  showcased their skillful decorating abilities yet again when they created a cabin-like scene complete with a marshmallow-filled house.
Gravelle said the pair was "trying to create a gingerbread dynasty."
However, their planned dynasty crumbled after the group of Elise Ziemer ('20), Reeba Quraishi ('20), Laura Kelly ('21), Zach Holliday ('21), Amanda Carlson ('21), and Eliza Goodwin ('21) won first place with their creation.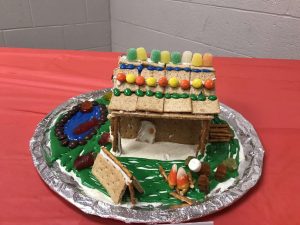 With a cotton-candy covered base to represent snow, a giant chocolate Santa, sprinkle-covered candy trees, and a pretzel roof, their house quickly became the favorite amongst the panel of judges which consisted of teacher volunteers.
"I was really proud because our team put in a lot of effort," Kelly said.
The second- and third-place teams were announced, and while Gravelle and Stewart didn't place first as they had hoped, they still earned the title of runner-up due to their artful icing designs and their stable house.
The third-place winner, led by Grey Holliday ('23), worked together to build a tall gingerbread house with a green candy cane on each side.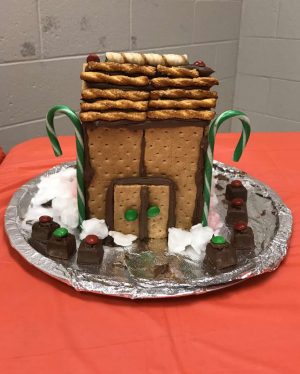 While only three teams were able to place in the competition, Schnabel commented that she enjoyed seeing all of the "students working together, having fun" and all of the creativity that she saw from the competitors.