New York, New York
Choir and Orchestra students took on the Big Apple during the summer of 2018. Now, band students get the opportunity to perform in the concrete jungle this spring.
Through the music programs at NCHS, students have been given the opportunity to experience a wider world of music.
The beginning of summer started with a 14-hour bus ride for choir and orchestra students; every other year, the programs combine and take a trip at the end of the school year to perform and practice their crafts in different locations across the nation.
Over 130 people met in the fishbowl on June 1 at 5 a.m. to board three charter buses to New York City. Arriving at their New Jersey hotel around midnight, students unpacked and prepared to reboard the bus at 9 a.m. for Liberty Island, where the choir students sang in front of the Statue of Liberty.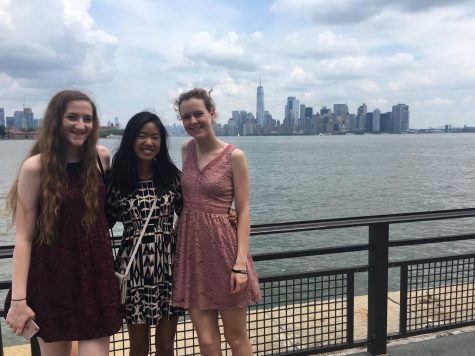 "The Statue of Liberty is such a huge symbol of freedom," Alexis Haas, junior, said. "So to be able to sing the National Anthem in front of the statue of liberty was really awesome."
The first day in the concrete jungle continued on into Little Italy, where students were allowed free time to shop and explore before recollecting for a group dinner. The night ended with a performance by the New York Philharmonic.
"Seeing professional musicians in that sort of setting really made me more motivated with music and made me enjoy it even more," Katie Krueger (10) said.
Day two began with a bus tour of the city, driving through Times Square and passing by landmarks like Madison Square Garden. The tour ended with dropping students off at Washington Square Park.
"I loved the bus tour of NYC so much! We stopped at Washington Square Park and got cute pictures (and played) with strangers' dogs at the dog park," said Ellie Stephan, sophomore.
Students were then allowed to sight-see around Times Square before attending their choice of Broadway performance: Mean Girls, The Lion King, or Aladdin. The group then reunited after dinner for a sunset view of the skyline from the top of Rockefeller Center, closing out day two.
"Everyone was taking pictures on the right-hand side where you could see the Empire State Building, but everyone was missing the view on the left side (that had) the most beautiful view of Central Park," Katey Parry, senior, said. "It was cold, but it was good."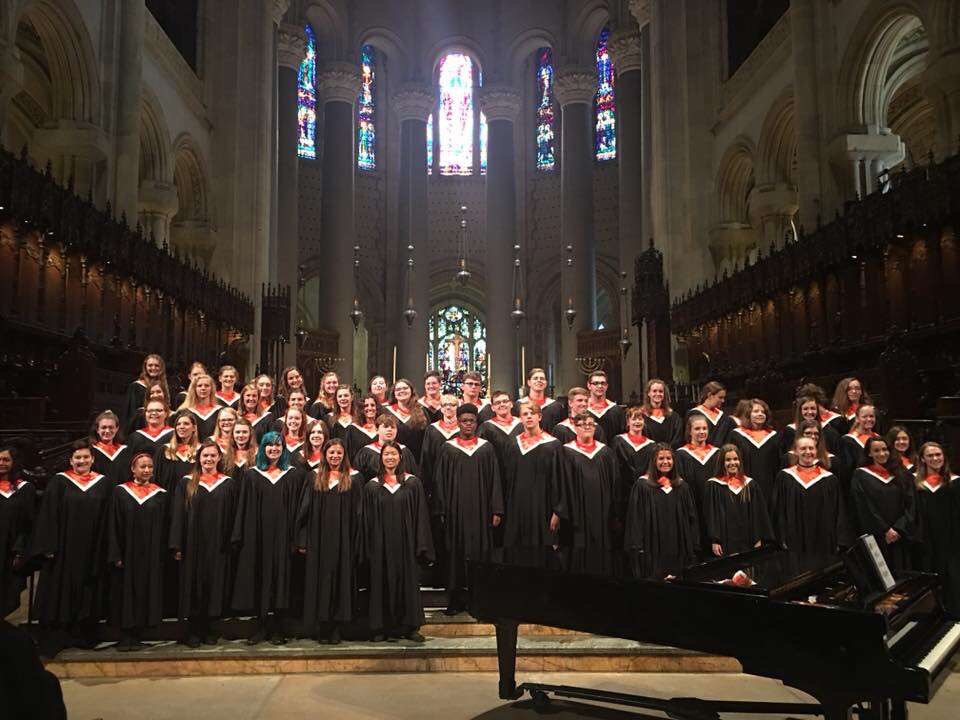 Day three began with a choir performance at the Cathedral of St. John the Divine.
"That is a performance I will never forget," Hannah Deckinger (11) said. "The cathedral was so beautiful and our sound just echoed. I was brought to tears when I sang."
Before continuing the day in Central Park, students were allowed to get lunch and eat on the steps of the Metropolitan Museum of Art. The group ventured into Central Park together but eventually split off to give everyone the chance to explore on their own.
"It was peaceful to just sit there and talk about life. It almost felt like we lived there instead of being there for a school trip," described Morgan Ha (12).
Trip attendees were also able to spend time at the American Museum of Natural History – where 2006 film Night at the Museum was filmed – located just outside of Central Park.
The day ended with a sunset dinner cruise, taking guests up and down the Hudson River for two hours, providing a view of the skyline.
"(My friends and I) were outside on a ferry boat watching the sunset over the harbor, looking at all the places we went during the trip," Liv Ross (11) said.
The final day in New York began with a visit to the 9/11 Memorial and Ground Zero, where fountains were created to commemorate the location of where the Twin Towers once stood.
"It was really interesting to be able to see all that had really happened that day, like news broadcasts and recorded phone calls of victims," said junior Becca Burton. "It really taught me how much it affected people who were alive at the time, and it made me aware of how tragic the event really was."
Ground Zero was followed by a subway ride back to Times Square, giving students and chaperones a chance to do some last-minute shopping. After meeting at a hotel for dinner in the heart of Times Square, attendees were ushered to their final musical: Phantom of the Opera or Waitress.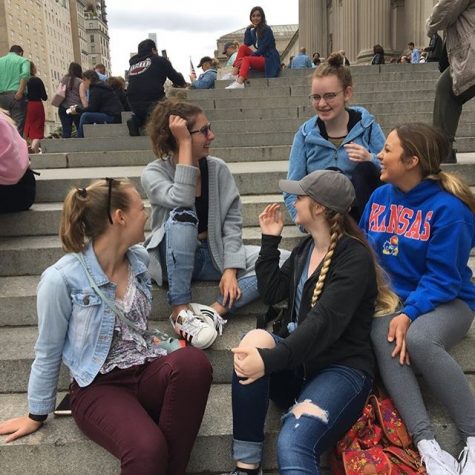 "(Waitress) was very well done," commented senior Emma Larson. "We got to sit in the third and fourth rows."
After the shows, students boarded onto the buses to begin the trek back home.
"People complain about the bus ride, but I felt like it was half the fun," Danielle Ferrante (11) said, "All survival of the fittest, and you got to see everyone's true colors."
As choir and orchestra students reflect on their time and experiences in NYC, band students prepare to head to the city that never sleeps.
Wind Ensemble, directed by Mr. Lance Meadows, and Jazz Ensemble, directed by Mr. John Larson, have been spending time outside of school to prepare to perform at Carnegie Hall and Liberty Science Center.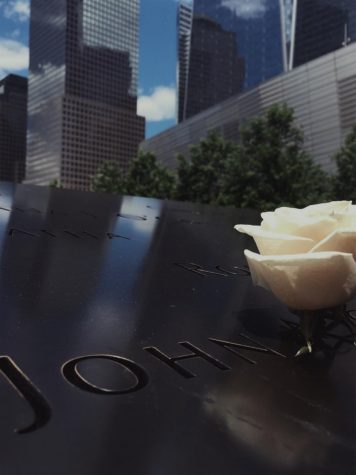 "We have had rehearsals every Monday night from 6:30-8:00," said senior Elly Bales. "We're playing three pieces, so we're basically focusing all our energy on those."
These students will be spending part of their spring break participating in the "New York 'Sounds of Spring' Festival".
"Mr. Meadows and Mr. Larson are pulling out some of the harder music they have and pieces that the (would like to) play in New York," Trent Nolin, senior, said. "For most of us, this is a once in a lifetime chance and we are going to make it count."
Jazz Ensemble has been focusing on their pieces for a few months now, rehearsing every Tuesday and Thursday.
"Mr. Larson has been planning what he wants us to play for a few months now," said senior Mike Romero. "The jazz band is almost entirely returning members this year and we sound the best we have in the last few years."
While in New York, students will be seeing a Broadway performance of Wicked, a sunset dinner cruise, and taking a visit to the 9/11 memorial, and more. Looking forward, however, some students are most excited to perform at Carnegie Hall.
"I'm definitely looking forward to having one last band trip with all my friends during our senior year, and getting to play such a famous venue," senior Patrick Kehias said.
New York has opened its doors to all three music programs at NCHS within the past year, giving students the opportunity to explore a new scene, sight-see, and perform with their friends.
"It's a nice thing to be able to do senior year, and it'll be my first time going to New York," said Bales. "I'm excited to have this experience with almost all of my closest friends."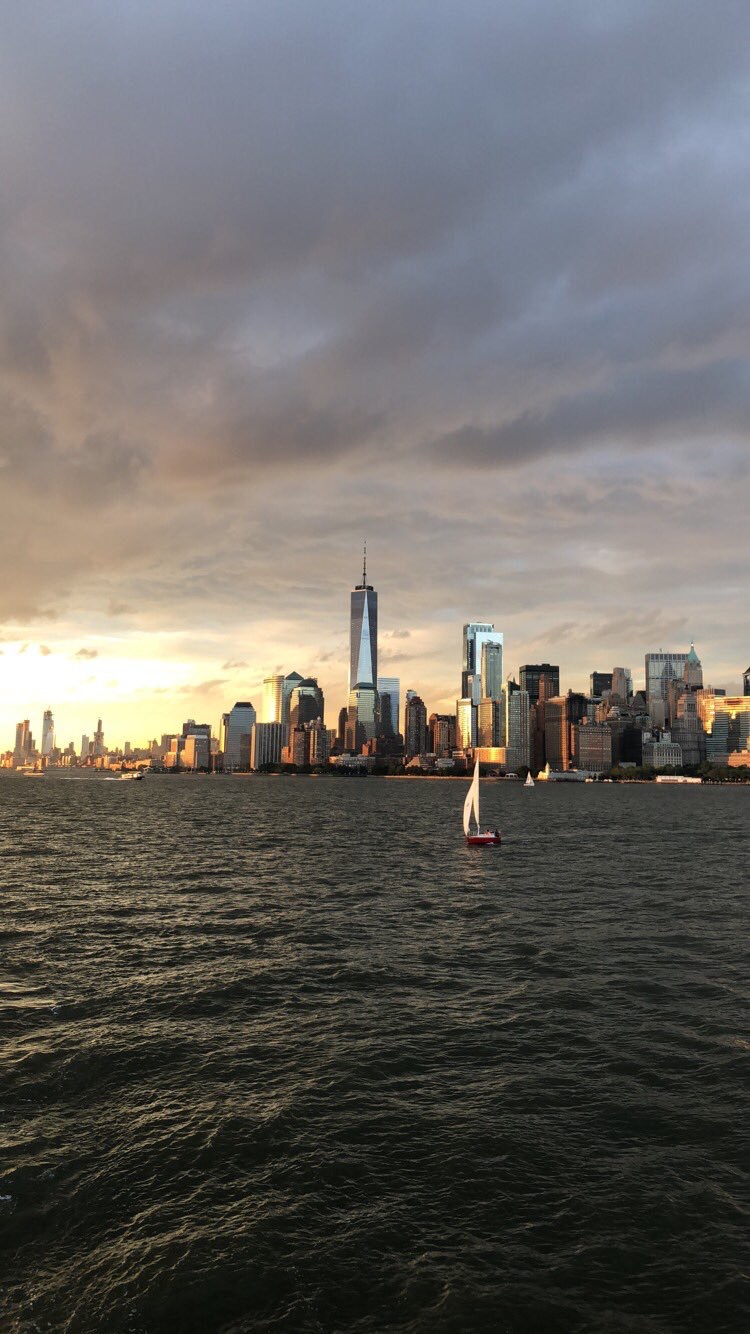 About the Writer
Abby Kimball, Staff Reporter
Abby Kimball is a senior at Normal Community High School and is a member of the Theatre program and the Thespians Society. She is a Staff Reporter for...