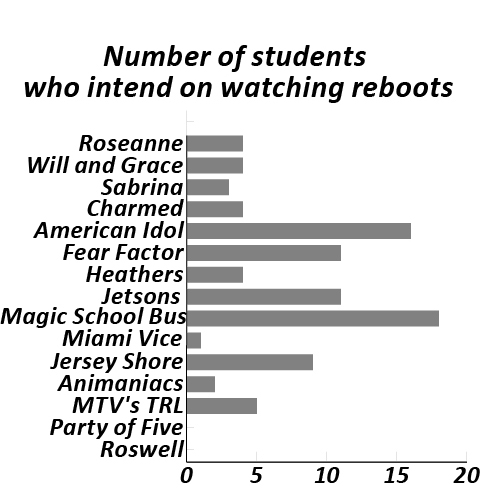 Will and Grace. Fear Factor. The Magic School Bus. Total Request Live!. Sitcoms, reality, and kids shows are being revisited with previous casts and relaunched with new actors.
Over 15 spinoffs and reboots premiered in 2017, with more scheduled for 2018 and 2019.
Here is a look at the two blasts from the past the NCHS student body is most interested in.
Every kid dreamt of riding on the magic school bus with Ms. Frizzle in the 90s, but that generation has grown up. Now, a new generation gets the chance to share that dream of "navigat[ing] a nostril" or "raft[ing] a river of lava" – The Magic School Bus Rides Again) premiered on Netflix on September 29.
Though Lily Tomlin reprises her role as the incredible Ms. Frizzle, significant changes were made to the show. For starters, Ms. Frizzle is not driving the bus anymore, Frizzle handed over the keys and the responsibility of being the teacher and bus driver to her little sister, Fiona Felicity (voiced by Kate McKinnon of Saturday Night Live! fame).
That is not the only change; the theme song that makes kids feel like they were "surfin' on a sound wave and swingin' through the stars" is sung now by none other than Hamilton himself, Lin-Manuel Miranda.
While Lin-Manuel Miranda's musical talent came to light on Broadway, music-sensations like Carrie Underwood, Jordin Sparks and Jennifer Hudson were discovered through American Idol, another relaunched show. American Idol got the chance to again inspire budding singers and potential future stars when ABC began broadcasting the show's reboot on Sunday, March 11 at 7 pm – a brand new network with brand new judges.
Fox's American Idol first said goodbye to fans in April 2016, changing lives over the course of its 15 seasons. Now, Pop star Katy Perry, R&B legend, Lionel Richie, and country phenomenon, Luke Bryan replace Jennifer Lopez, Keith Urban, and Harry Connick Jr. as judges, while Ryan Seacrest returns as host.
The show hopes to capitalize on the success stories of some of its former competitors like country artist and season 4 winner Carrie Underwood. Underwood is the most successful of the American Idol alumni, according to Business Insider, with a net worth of $70 million and accolades like the 2017 CMT Female Video of the Year and Collaborative Video of the Year.
Pop-sensation Kelly Clarkson is the show's second-most successful stars – with a $28 million net worth. Since the show, Clarkson went on to win Best Vocal Album in 2013 for her influential album "Stronger".
Clarkson now coaches undiscovered talent alongside country star Blake Shelton, R&B goddess Alicia Keys and the talented lead singer of Maroon 5, Adam Levine, on The Voice, the show American Idol hopes to compete against.
Along with Underwood and Clarkson, multiple stars from American Idol have made monumental achievements after the days on Idol. Even those who did not win on Idol were able to find success in the music industry. Jennifer Hudson, who was eliminated during season 3, won a Grammy for Best R&B Album in 2009 and for Best Musical Theater Album in 2015 for The Color Purple. In addition to her two Grammy Awards, Hudson won the BET Award for Best New Artist in 2007.