300 Words: Hands
Her hands are the first thing anyone notices. They are never steady; fingertips constantly finding new terrains to explore. Their favorite spot is the space behind her ears, where hairs will be tucked serially.
Her hands shout to observers. They wear her anxiety like a cape, displaying it for all to see. Fear and hesitation try to hide in the ridges of her knuckles. The fingers repetitively dance and shake as if to scream, "Look at me! Something's happening!"
Her hands float. As she remembers her worst moments, her hands perform, flying up when she expresses her worries about college.
"What if I choose wrong?" both Megan and her hands ask.
Though, there is a moment that her hands fall silent. After a suggestion from a teacher, her hands find their way to an art therapist. Usually chaotic, her hands are folded neatly and shaking into her lap. They have nothing to say. They are too afraid to perform.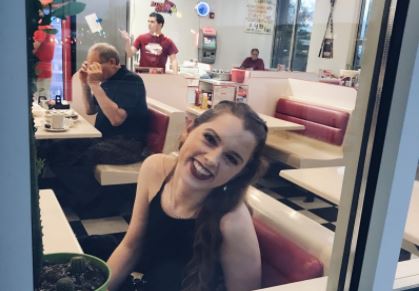 Crayons roll across the desk and a canvas is hung up in front of her, daring her hands to show themselves. The lights are dimmed, the darkness surrounding her in a paradoxical comfort. She should be afraid– she's always afraid. But in the dark, her hands can be vulnerable. There is no audience here.
"Why don't we try drawing?"
Her hands crawl forward to pick a color, letting the blue crayon pull her toward the canvas. The edges of her fingers drag across the material as swirls begin to appear. She knows when she's done. She can feel it; her hands are steady.
Her hands are still the first thing anyone notices about Megan Moore. But now, they perform without a cape.
Her heart is full and her fingers are light– and she gets do it all again the next week.
About the Writer
Katie Fata, Staff Reporter
Katie Fata is a senior at Normal Community High School. This is her first year working with the Inkspot as staff reporter. My biggest pet peeve is the...