300 Words: New kid on the block
Every teenager finds their four years in high school to be a bit weird. Puberty. Relationships. Finals. But for senior, Adriana Kuilan, her experience at NCHS has been stranger than most.
From the age of 5, Adriana attended military school where she trained to in the Reserve Officers' Training Corps (the R.O.T.C). Adriana learned how to handle a gun: gun maintenance, safe handling, targeting, shooting. All in school.
She was promoted to the rank of officer,  a rank that allowed her to lead her fellow classmates: giving commands, setting formations, and conducting drills.
But at the age of 16, Adriana transferred from military school to NCHS and things got weird.
At 16, Adriana and her family moved to  Bloomington. From Puerto Rico. A sophomore in high school, a native Spanish speaker: life was about to get a little more complicated.
Like all high schools, Normal Community is very different from military school: there are no guns allowed, it does not condone combat between the students. The school focuses on a curriculum not of military tactics.  
But for Adriana the biggest difference is the Spanish language.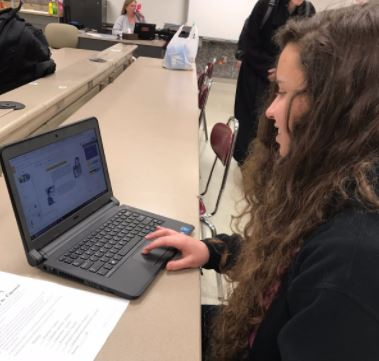 Here, in Spanish class, Adriana's Spanish teacher taught the class how to say, "I failed." In Puerto Rico, "I failed" is colgué, but in this Spanish class, it was "reprobar" – Adriana knew that the expected things between her two schools were different, but her own language had become different.  The way it was taught – different.

Confusion.
That's what Adriana felt after Spanish class that day.
"Why is Spanish here so different?" The difference it isn't huge. But it is enough. Enough in a place where it wasn't expected. No sign on the door as a warning.
Adriana has an A in English, but a B in Spanish. A new school, a new ranking.
About the Writer
Sumayyah Muhammad, Staff Reporter
Sumayyah Muhammad is a junior at Normal Community High School and is a second-year member of Key Club. This is her first year working with Inkspot as a...