Sign of the times…to come? Styles solo album a masterpiece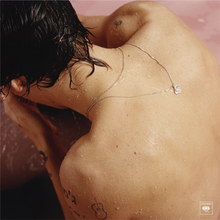 Boy bands have captured the hearts of listeners globally for years, dating back to the Beatles first performance live television appearance on the Ed Sullivan show in 1964. Then came the Monkees and the Beach Boys and Jackson 5. Boy bands, with their choreographed dance moves, matching outfits, and enticing and complimentary vocals, always provide something to hear, to watch and to enjoy. *NSYNC and Backstreet Boys, arguably two of the most popular boy bands of all time, were huge in the late 1990s and early 2000s, but their careers are still thriving – the artists still talked about and loved today in 2017. The Backstreet Boys peaked on the Billboard "The Hot 100″ chart in 1998 with the hit "Quit Playing Games (with My Heart)" at 2; and again in 1999 with "I Want It That Way" topping Billboard's "Adult" and "Mainstream Top 40" charts. *NSYNC followed suit, topping the charts of 2000 with their hit "It's Gonna Be Me." There were the New Kids on the Block, Hanson, 98 Degrees; the Jonas Brothers, the Wanted… Needless to say, boy bands have been proven to be wildly successful in the music industry.
A new boy band took the spotlight in 2010. One Direction. Four Brits and one Irishman with young faces and dreamy eyes, performing pop songs in front of thousands of teenage girls, success was practically handed to them. Unfortunately, all good things must come to an end, and boy bands are no exception. (Unless you are the Backstreet Boys or New Kids on the Block who began touring again in 2011).
In March of 2015, One Direction group member Zayn Malik, announced he would be leaving the group to pursue a solo career. While the group continued as a four-piece, the boys announced that in January of 2016 the group would be taking a year hiatus. More than a year has passed, it may be safe to assume that One Direction has gone one direction – there own separate ways. But one can hope.
Since One Direction's break, the boys have had ample time to work on solo projects. Louis Tomlinson released a song with popular DJ, Steve Aoki. Niall Horan has released three songs off of his upcoming album. Liam Payne will be releasing a single in the upcoming weeks, and Harry Styles has produced an entire album, Harry Styles, and will be touring in the near future.
While it's always sad to see things we love go away, something good usually comes out of it.
Styles' album is one of those positive things.
When Harry Styles released his first single, "Sign of The Times," One Direction fans everywhere fell in love. In the first week of the single's release, "Sign of The Times" reached No. 1 on the Billboard + Twitter Top Tracks chart, has been played over 2,000,000 times on Spotify, and is currently 8 on the iTunes singles charts.
The rock ballad showcases Styles' vocals beautifully. He begins in a comfortable range for the verses and beginning of each chorus, but progresses to a soft falsetto for the second half of each chorus. At the end of the song, Styles belts out the words he repeats throughout the tune: "We've got to get away." Whether he means that literally or figuratively, one can't be sure but the passion can be heard in the little cracks and distress of Style's voice as he delivers a powerful ending to an addicting song.
Styles released the completed self-titled album, Harry Styles, on May 12. Composed of ten songs, the album consists of ballads such as "From the Dining Table" and "Sweet Creature", soft rock songs like "Woman" and "Meet Me in the Hallway", and more upbeat tunes like "Carolina" and "Kiwi."The artist showcases diverse musical taste and separates himself from the pop sound associated with his prior work with One Direction. Styles finds a way to make each song unique, with no two sounding remotely the same. He does a phenomenal job altering the tone of his voice depending on the feel of each song, further building the diversity of the album.
In "Kiwi", Styles delivers the majority of the notes in a strong higher range in order to complement the heavy electric guitar in the background music. But in a slower song such as "Ever Since New York", his tone is much softer. He's more reserved in the strength of his voice as the instruments in the background are more on the acoustic end.
One might imagine that the majority of listeners of this album are teenagers, One Direction fans. This is someone they love, someone they look up to, so of course they're going to support his solo music no matter what. However, watching YouTube videos of Styles performing a couple of numbers on morning shows or talk shows and reading the comments, you notice that numerous come from older men and women, those outside of the One Direction demographic.
Comments complimenting Styles' voice, comparing his "vibe" to legends such as Prince, and saying he's bringing back the 70's to a time where pop and hip hop dominate the music industry. Rolling Stone magazine wrote that Harry Styles solo debut "digs so deep into classic California mellow gold. The whole album has the personal yet witty spirit of the cover photo." The same review begins be describing the Styles: "Harry Styles doesn't just want to be a rock star – he wants to be the rock star." Styles has come a long way from his One Direction roots, and if you make good music, people of every age will love it. This is an album where anyone should be able to find at a song or two in the collection that speaks to them. That makes them feel something. Styles has created a masterpiece in my eyes.
I will admit, when I first listened to the entire album, I was not a fan of it. I liked maybe three songs and that was it. I was so used to the One Direction Harry Styles who sang catchy pop music and danced like an idiot on stage that his new style confused me. But I kept listening. Listening to the complete album multiple times through, learning to separate this Harry Styles from his One Direction persona, and now I love the album. It is diverse, the work put into each song to make them sound perfect or perfectly imperfect is evident.
Harry Styles is a phenomenal album worthy of your listen. This album is an A+, it may take a few listens for One Direction fans to clear their expectations of what it should sound like to appreciate what it does sound like. 
About the Writer
Brooklyn Shaw, Staff Reporter
Brooklyn is a senior at Normal Community High School. This is her first year as an Inkspot staff reporter. She is not involved in any extra-curricular...