Sheeran fans undivided; a review of 'Divide'
Ed Sheeran has always drawn from a personal place when creating and performing his music, but his new album Divide takes that same personal, intimate approach to another level. Each of the sixteen songs in Sheeran's album puts a piece of his culture and past in the spotlight.
Every song on the album has a clear story that relates to part of Sheeran's past – his personal or family history. "Castle on the Hill" gives the listener a glimpse of Sheeran's childhood, while "Supermarket Flowers" describes his mother's grief after her own mom's death. "Nancy Mulligan" tells the true story of how Sheeran's grandfather fell in love with his wife.
Rolling Stone writes that these stories and the "vivid character sketches provide Divide's best moments."
The album also offers a look into Sheeran's cultural heritage. Bits of classic Irish music themes can be heard throughout the album, especially in "Galway Girl" and "Nancy Mulligan." Songs whose titles reinforce those Irish themes.
Though many of Divide's songs are specific to Sheeran's personal story, there are tracks with broader themes. Songs such as "Dive", about the apprehension surrounding relationships, and "What Do I Know?", about the power of love and understanding, are focused on themes many listeners can relate to.  Therefore, these less intimate songs can be more easily applicable to the lives of a broader audience.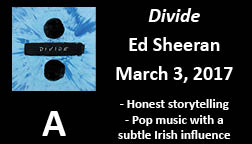 Amidst the slower and more nostalgic songs are also a handful of upbeat tracks. "Barcelona," "Bibia Be Ye Ye," and "Shape of You" are reminiscent of a car-windows-rolled-down, sing-at-the-top-of-your-lungs type of jam.  
Plus was Sheeran's debut studio album, released in 2011, and as Rolling Stone put it, "Sheeran doubles down on the blend of hip-hop bravado and everyday-bloke songwriting that helped him break out at the turn of the decade." These same hip-hop beats blended with a casual vibe clearly distinguish Divide as one of Sheeran's works.
Though the album is still clearly identifiable as Sheeran's work, it shows the artist has experienced a lot of growth since his last album release, X, in 2014.
After finishing his world tour for X in 2015, Sheeran announced that he was taking an extended hiatus. In a recent interview with People, he stated, "Life's all about balance, and I wasn't getting it right." During his hiatus, Sheeran took time off from social media, spent time with family and friends, and traveled the world. All in all, he "just found some normality."
This "normality" certainly did Sheeran well. His travels helped inspire him; during his time in Ghana, Sheeran was inspired to write "Bibia Be Ye Ye" (which means "everything will be all right") with some local musicians.
The hiatus also rejuvenated the artist. In his interview with People, he stated, "A year off was great, but it felt like a void in my life. I'm glad to be back."
With a refreshed mind and a refreshingly honest album, Ed Sheeran has already begun touring in Europe. He will begin his North American tour in June.
Stadiums are sure to be packed as Divide has already had immense success. "Shape of You" has been number one of Billboard's Hot 100 for the past nine weeks. The album itself also reigns at the top in Billboard's Top 200 Albums. It was also named 2017's top-selling album after only one week of being released.
This album has clearly hit a chord with many people. With a wide variety of songs and sounds, Sheeran has crafted another honest and profound album.
About the Writer
Melissa Schill, Editor in Chief
Melissa Schill is a senior at NCHS. This is her third year working for the Inkspot, and she is the Editor in Chief. Melissa is also involved in the Principal...