Athletic Director set to leave NCHS
Athletic Director Mr. Andrew Turner will be leaving Normal Community High School at the end of this school year to take the same position at Main South High School. Turner began his employment in Unit 5 in 1995 teaching science, coaching baseball at both Normal Community and Normal West, and then earning the Athletic Director role at Community in 2002.
Among Turner's numerous successes during his time as Athletic Director, Normal Community qualified for the State finals in boys basketball twice, finished second in the 3A boys soccer championship, won the 2A softball title, won the class 6A football championship, and had two consecutive top four appearances in the girls volleyball State series.
Turner said that he found out about the job opening in late October and began the application process.  Turner, who was born in Des Moines, Iowa and earned his Masters in Science at Webster University, decided that the move to Maine South was best for him and his family. His decision ultimately "came down to [his] family and [his] Ironmen family" – realizing that his family comes first and then his Ironmen family.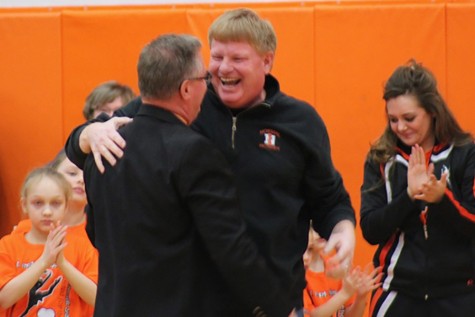 When asked about his favorite part about being a Normal Community Ironman, Turner said that he had too many favorite moments in the school – but stressed how much he has enjoyed seeing students working together and how the NCHS sports teams continually play with effort and integrity.
Turner, who was honored at the basketball halftime on February, 12,  said he wanted to thank the students, coaches, the teachers, the principal and everyone else who has helped make Normal Community a great school. He also wished the best of luck to Ironmen teams in the future.
About the Writer
Vernon Smith, Senior Reporter
Vernon T. Smith Jr. is a Senior at Normal Community High School, and is a senior staff member of the NCHS Inkspot.  He graduates May 27 at 2:00 pm and...