Review: 15 Albums for '15
Taylor Railey offers up her 15 top albums from 2015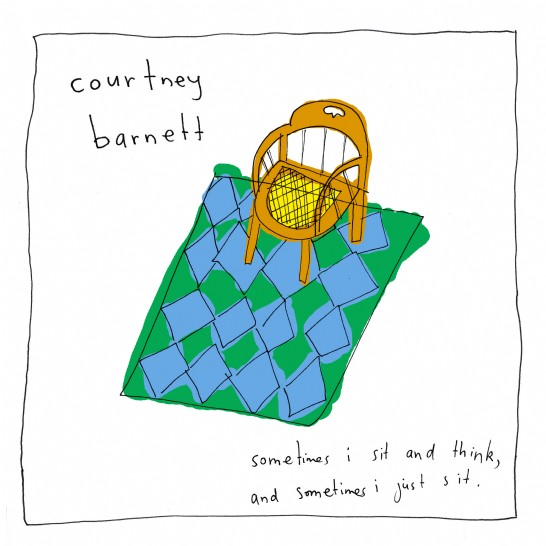 1. Sometimes I Sit and Think, and Sometimes I Just Sit (Mom + Pop Music) – Courtney Barnett
Grammy nominated singer-songwriter Courtney Barnett released her debut album in March. Barnett's songs offer surface level messages, but can take on a deeper meaning after a second listen with topics ranging from the projection of feelings in the bass drum heavy album opener "Elevator Operator" to views on environmental issues in the dreary "Kim's Caravan".
"Dead Fox", one of the more lively tracks on the album with a high hat rhythm setting the tempo and bright guitar parts, appears at first to simply be about Barnett's partner suggesting to buy organic vegetables and driving on the highway. Barnett is using this concept as an euphemism to describe the destruction caused by big businesses – "Just swerved into a passing truck/ Big business overtaking/ Without indicating/ He passes on the right/been driving through the night/ To bring us the best price." The lyrics address death, of humans and animals, suggesting that these major corporations are metaphorically, and maybe literally, killing.
The stand out down-tempo song on the album, "Depreston", is about Barnett's search for  a home in the "depressing" Melbourne suburb, Preston. It begins as a description of Barnett's surroundings and her thoughts with a repetitive, but light and gentle, blues guitar that loops throughout the song and high hat added in the second verse, to make the listener focus on Barnett's lyrics. It shifts in the end of the third verse with the line – "And it's going pretty cheap you say, well it's a deceased estate/ Aren't the pressed metal ceilings great?"
In the 4th verse, Barnett depicts a deceased woman's belongings –  ending the verse with "And I wonder what she bought it for." There is a shift in the music after this line is sung, and a very dreamy and ethereal guitar part is added on top of the looped track during a lyrical break. This makes it feel as though Barnett is trying to formulate her own answers for the things she has seen in the home, by taking a break in the lyrics to think like she most likely doing in this moment.  The guitar drops out and the vocals start again with the line, "If you've got a spare half a million/ You could knock it down and start rebuilding" is giving the feeling that the real estate agent is trying to move Barnett off of the topic and consider purchasing the property, especially because the line is repeated six times, each time with an increase in volume. The dreamy guitar from the first section of instrumentals returns and plays the song out.
Barnett's mundane tone at first seems like a turn off, but after a few listens the delivery starts to grow on the listener. Her clever lyrics, though strange at time, can be relatable, since they are about things that happen to people on a daily basis. Her sound is fresh and new, and yet still comparable to other female lead groups like Alvvays and Karen O. Expect to be hearing from her in the future, because her creative work is not going away anytime soon.
2. Sound & Color (ATO) – Alabama Shakes
Alabama Shakes' sophomore album begins with a powerful, but still light keyboard into in the title titular, "Sound & Color". Drums are added, making the track gain momentum until the moment the lead singer, Brittany Howard, starts in. The harmonies the band creates with the lyrics compliment the instruments being played, giving it a vibrant sound. The song increases in volume and becomes more and more intense as it goes on with the addition of violin, and "sound and color" being repeated in the background while Howard continues vocalizing. This song is perhaps meant to be a song that sets the sound for the entire album, given the title.
Tracks such as "Don't Wanna Fight" and "The Greatest" have a sound comparable to The Black Keys and even Cage the Elephant, with a heavy blues influence and an almost southern rock-feel. Both of these tracks feature rich guitar, which gives a harsher sound musically, but Howard's pure and intense vocals compliment.
The most powerful track on the album is "Gimme All Your Love", which contains pounding and heavy instrumentals. Howard's vocals begin slow and relaxed, but swell in volume when singing the chorus. The music increased in this section too, adding in intense drums and keyboard.
Alabama Shakes return with this album contains the same bluesy vibe as their 2012 release, and yet still add a new sound to this record. Their simple but intense lyrics being sung by Howard, complimented by their instrumentation make it a powerful record. Which is why I believe it is one of the best releases of the year.
3. Currents (Interscope Records) – Tame Impala
Must Listen: "Eventually"

Skip: "Gossip"
4. Blood (Warner Bros. Records) – Lianne La Havas
Must Listen: "Unstoppable"

Skip: "Grow"
5. Beneath The Skin (Republic Records) – Of Monsters And Men
Must Listen: "Crystals"

Skip: "Thousand Eyes"
6. Gentle Warnings (Yebo Music) – Jack + Eliza
Must Listen: "Oh No"

Skip: "Circle Meets The Line"
7. Psychic Reader (Afternoon Records) – Bad Bad Hats
Must Listen: "Joseph"

Skip: "Cruella"
8. Young Chasers (Virgin EMI) – Circa Waves
Must Listen: "T-Shirt Weather"

Skip: "So Long"
9. The Waterfall (Capitol Records)  – My Morning Jacket
Must Listen: "Compound Fracture"

Skip: "Only Memories Remain"
10. Back On Top (Fueled by Ramen) – The Front Bottoms
Must Listen: "Laugh Till I Cry"

Skip: "West Virginia"
11. Wiped Out! (Colubmia) – The Neighbourhood
Must Listen: "Crybaby"

Skip: "A Moment Of Silence" (because it's literally a moment of silence)
12. The Desired Effect (Island Records) – Brandon Flowers
Must Listen: "Still Want You"

Skip: "Between Me And You"
13. Too (Mom + Pop Music) – FIDLAR
Must Listen: "West Coast"

Skip: "Hey Johnny"
14. What Went Down (Warner Music) – Foals
Must Listen: "Birch Tree"

Skip: "London Thunder"
15. LOVETAP! (RCA Records) – Smallpools
Must Listen: "Street Fight"

Skip: "9 to 5"
About the Contributor
Taylor Railey, Staff Reporter
Taylor is a senior at NCHS involved in the Normal Peace and Justice club. This is her first year as a staff reporter for the Inkspot.

My favorite movie...