'Transparent' season two premiere review
After much critical acclaim from sources such as Vogue and The New York Times, Jill Soloway's Transparent is returning for a second season. The show is a lighthearted comedy-drama with an embedded social message, comparable to shows like Modern Family and Glee. With the first season winning many awards, including the "Best Television Series" category at the Golden Globes and multiple Emmys, the second season will be met with an influx of viewers, but also an incredibly high standard to live up to. The first episode's attempt to live up to those standards is definitely promising.
The first season of Transparent focuses on Maura (Jeffrey Tambor) coming to terms with her trans identity with the help and support of friends and family. Similar to the second season premiere, season one is a realistic depiction of the struggles faced by the trans community in terms of societal acceptance and throughout the physical transition. The end note of the first season shows Maura's son Joshua (Jay Duplass) about to get married to the character known as "the Rabbi".
Season two's premiere episode first opens with the Pfefferman family frantically trying to take a family photo at the wedding. The emphasis is on how difficult it is for everyone to all get together and take a picture, but still remaining happy and cordial, alludes to how much of the relationships of the first season played out, and possibly foreshadows that the family dynamic will be similar this season as well.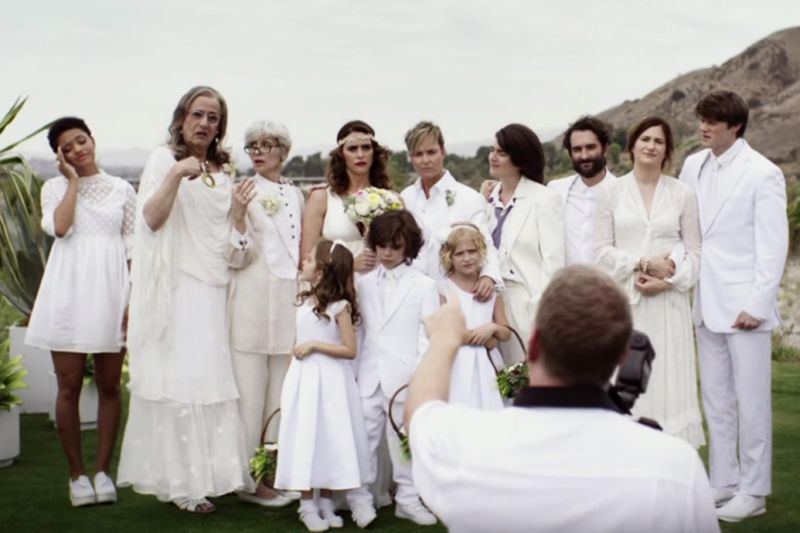 During the picture taking scene, we hear the main character Maura, a transgender woman, get misgendered as male. She responds in surprise and shock, and leaves to have the picture taken without her. This example of transphobia, albeit unintended, does a great job at showing an authentic and accurate portrayal of the unwarranted and daily struggles often faced by the trans community. Scenes like these are able to be so effective partly because of the cast, many of which who are experience television performers; including: Carrie Brownstein, Melora Hardin and Jason Mantzoukas. Actress Hari Nef has been added to the cast this season, after making news earlier in the year by being the first trans woman signed to the esteemed modeling agency IMG.
Seemingly right after the family picture is taken, the episode transitions into a scene of guests socializing and finding their seats before the wedding. The viewer is introduced to another conflict: the protagonist Maura sees her estranged sister at the wedding ceremony. It is obvious that her sister is not accepting of her transition, with Maura saying, "she has gone on the record as being anti-gay … to get a gander at this, that's why she's here." This conflict depicts the issue many trans people face of acceptance by family members; it's an issue equally as relevant as the first we are presented with, but even more tormenting, and a great direction on Soloway's part.
We are then thrown into the wedding ceremony and reception, what seems to be a typical family event. However, we soon realize that this may not be the case. The viewer is almost immediately given a personal perspective of Sarah Pfefferman's commitment issues, and anxiety she deals with continually throughout the episode. We are put into her shoes and are shown a montage scene of distorted sounds and heavy breathing. It is obvious foreshadowing of what may happen in her marriage later in the season. Surprisingly, we do not have to wait until later in the season to see how this pans out. After what seems to be a panic attack, Sarah rushes to the bathroom to have her breakdown in private. Later, she is found by a group of family members, who explain to her that the marriage certificate has not yet been sent in, so she is not technically married. Sarah sighs with relief. To end this scene, we see Maura confront her sister, saying that she wishes to visit their mother before she passes. Her sister reacts very angrily, saying that she should let their mother pass not knowing about the transition. This scene is definitely the most disheartening in the episode. My only criticism with this episode and this scene in particular is that so much seems to be forced into this less than thirty minute episode, which makes me wonder how well developed these conflicts are, and what could possibly happen during the rest of the season that would be as impactful as these scenes.
To end this episode, the camera pans across multiple hotel rooms of the guests at the wedding, summing up the main conflicts each character dealt with during the ceremony. Aside from this being truly impressive from a cinematographic perspective with strategic uses of techniques such as panning and angles, going over each conflict does a great job of giving the episode a sense of conclusion. Returning and new viewers alike can easily sympathize with these characters and their struggles. Overall, this is an episode that does not disappoint, that effectively sets up what the rest of the season may be like, and that lives up to the show's prestigious status.
Grade: A-