Part-time attendance offers unique opportunities
Updated: 10:26 am – 11/30/2015 
On a dim, chilly morning, buses and cars filled with sleepy students come pouring into the school parking lot. Yawning and stretching, kids shuffle into the building, trying to rub the sleep from their heavy eyes.  The day moves forward, each period ticking by.  After a full seven and a half hours of classes, the final bell rings, and students come pouring out of the building.  Another day of school is finished.
The cycle starts all over again.  Exhausted kids walk into the building, surrounded by the sharp smell of bus exhaust.  Classes begin.  The minute hand ticks by.  The bell rings.  The halls fill.  Students moan and groan about the long days, the many classes, and their general lack of time.  Another day is done.
This is not the case for some students.  Unit 5 offers a part-time attendance option to students who live within the district, allowing students to complete school work through home-schooling or parochial programs while still attending a Unit 5 school for a portion of the day.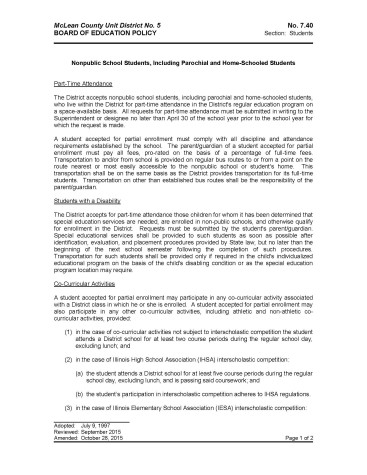 Kristin Turner is considered a sophomore at NCHS, and takes Algebra I through the school.  Kristin has been home-schooled all her life, but as she advanced to the upper math levels, learning the skills independently became more challenging.  Only receiving instruction once a week through a co-op made it difficult to recall and retain information.  "I kind of felt like I needed the everyday instruction and so far it's been really helpful and I've been doing a lot better in math," Kristin said.  
Though math has been a positive experience, Kristin struggles to connect.  "I think it's harder to meet people and stay connected when you're only taking one class," Kristin stated.
Kristin is only at school for 50 minutes of her day, giving her little time to socialize and get to know her fellow students.  "I think if I had a class right before lunch and then I could stay for lunch, that would make it easier to meet people."
Abbi Shipman, also a  part-time sophomore at NCHS, has had different experience when it comes to being connected at school.  She attended Evans Junior High, so she had her friends "carry over".  
Though she went to public junior high, Shipman chose part-time schooling because "I'm really into music.  I can experience other things with music that I couldn't if I was in school all day."  Unlike Kristin, Abbi uses school as a way for her to experience artistic opportunities through the NCHS Orchestra.  However, Abbi also has the opportunity to take extra lessons during the day that she couldn't if she were in school.
The only class Abbi takes is Orchestra.
Along with music, Abbi is an avid soccer player; she plays travel soccer for Millennium Futbol Club.  As a soccer player, Abbi stated that she would like to try-out for NCHS soccer team.  However, the Illinois High School Association (IHSA) regulations state that in order for a student to play sports through their organization, they must attend a district school for at least five course periods excluding lunch.  
Abbi finds these regulations unfair and states, "You're enrolled, so I think you should be able to try out."
Mrs. Meta Mickens-Baker, president of the Unit 5 School Board, brings light to the other side of the sports issue. "The students who are in school have to meet regulations to play sports as well [as the part-time students].  It makes sense to me that they would have a part-time requirement.  I think it's reasonable for IHSA to have expectations."
There are pros and cons to nearly everything when it comes to part-time attendance.  Mrs. Maurer, Associate Principal at NCHS, discusses some of these vantages.
Maurer states that because she loves NCHS, so not being at the school all day is "a disadvantage for them in my opinion."
Maurer also finds some advantages, however.  "I'm glad that we can at least get them involved."  Maurer mentions Abbi's participation in Orchestra.  "It's a great way for her to get involved even if she's homeschooled."  
Part-time attendance is an available option, and a practical one for many students in the Normal area.  However, few people know about it.
Mickens-Baker explains why it is a lesser known option: "I don't know that we advertise it as an option because we think that what goes on in school is important for kids when they are of school age."
There are many opportunities in school for those who are full-time.  Mickens-Baker adds, "For some students, activities help them decide school's important.  School is important partially because of the activities to excel in.  We encourage students to take advantage of what's available for them."
As another morning dawns, students begin their routine cycle.  Go to school.  Attend eight class periods.  Attend an extracurricular.  Go home.  Do homework.  Repeat.  
On that same morning, part-time students begin their day.  They just start it a little differently.
Correction: The original article misrepresented a Unit 5 policy on what was classified as part-time attendance
About the Contributor
Melissa Schill, Editor in Chief
Melissa Schill is a senior at NCHS. This is her third year working for the Inkspot, and she is the Editor in Chief. Melissa is also involved in the Principal...