Vans Warped Tour 2015
Kick It With The Cool Kids (Get it? Cause Vans. Kicks. Shoes. Ha.)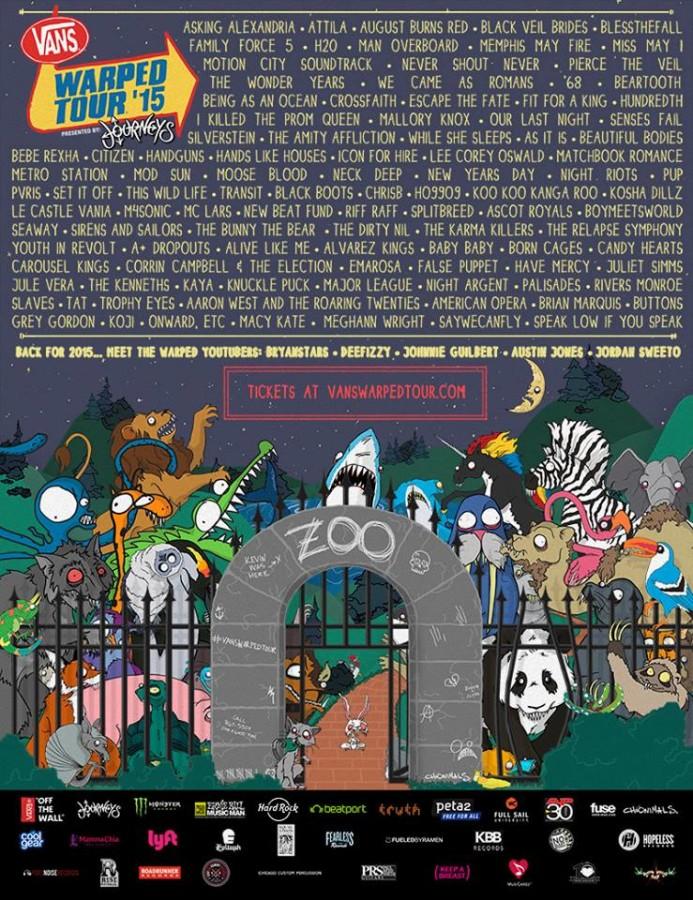 It's the birthplace of the Next Big Things. The pilgrimage mecca for sk8r bois and riot gurrrls across the nation. It's beautiful, it's chaotic, it's magic. It's Vans Warped Tour 2015.
The longest running, largest traveling music tour in North America, Warped Tour has been warping minds since 1995. If you're unfamiliar with it, think Coachella for the skater crowd. In place of flower crowns and crochet crop tops are black band shirts and tattoo sleeves. And, of course, Vans sneakers.
Scrolling through the bands page of this year's Warped Tour, the most noticeable thing is that there's no shortage of boy bands. This is a little disheartening for the female audience, because how many more disheveled twenty-somethings in leather jackets over stretched-out white T-shirts with faux mohawks and nature tattoos do we really need in the world, but still. Don't judge a band by its album cover.
Warped Tour began with a metal, punk-rock focus, but in recent years has expanded into acoustic-pop-indie territory. Although having received criticism on the increase of studio-ready bands gracing their stages in recent years, Warped Tour holds true to the belief that music is about evolution. You can't repeat the same tour twenty years in a row.
This year's tour runs from June 17th to August 8th. The featured band is Night Riots, a SoCal band that, true to title, makes you want to start a riot in the middle of the night. But the good kind, where you graffiti positive love-yourself quotes all over corporate headquarters and paint clothes on Victoria's Secret advertisements. Give a listen to "Contagious," their most-played song on Spotify. It's really really good.
Asking Alexandria will also be performing, in addition to Pierce the Veil, We Came As Romans, Hands Like Houses, and Miley Cyrus' big bro's band, Metro Station. Born Cages and Aaron West & The Roaring Twenties, the side project of band The Wonder Years' lead singer, seem poised for greatness.
I, for one, am stoked to see Pvris and The Ready Set. This Wild Life has a beautiful track called "History" that I've had on repeat for centuries. And my inner eighth grader is crying tears of joy at the idea of seeing Never Shout Never in the flesh. It's time to break out the over-sized rubber bracelet collection I have shoved under my bed.
For all my poetry dweebs out there, Warped Tour also features spoken word. This year's performers are Jake Ducey and Trey the Ruler.
Still doubting the "birthplace of the Next Big Things" credit? Warped Tour is a notorious launchpad for major bands such as Blink-182, the Black Eyed Peas, Katy Perry, Good Charlotte, Echosmith, Fall out Boy, and, yes, everyone's favorite heart-breaking guyliner kings, My Chemical Romance.
Vans Warped Tour holds firm to the philosophy that music is for all, and so Warped is famously one of the least expensive concerts out there. So give a listen, and buy a ticket. You can hear the new cool bands before they're cool.
I'll see you there.
About the Contributor
Meghan Bennett, Staff Reporter
Meghan Bennett is a senior at Normal Community High School. This is her first year on the Inkspot as a staff reporter.



Words To Live By


"Draw...