It only takes FourFiveSeconds to retune music
One song, two performances, three artists, and FourFiveSeconds to success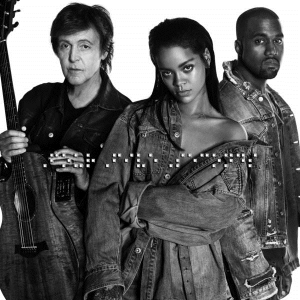 'Tis the dawn of a new age of music. Gone are the auto-tuned arias, the screeching bass drops, and the meat dresses and egg chairs. Music is getting back to its roots: celebrating raw, awe-inspiring talent– and at the forefront of this new era is Rihanna in a belted jean jacket, Paul McCartney at her side, and Kanye West staring deep into your soul.
Rihanna's new single, "FourFiveSeconds," off her eighth studio album, has received widespread critical acclaim. The public has been a little bit harder to coax around, but hey, no one ever said musical revolutions were easy. "FourFive" debuted at No. 54 on Billboard's Top 100– at first glance, a rather discouraging number. But it has steadily climbed the charts, currently sitting at a comfortable No. 6 on iTunes' Top Songs list and an impressive No. 4 on Billboard's Top 100. The video is currently No. 21 on iTunes, but that doesn't take away from its mastery.
The video stars Rihanna and Kanye West on vocals while Paul McCartney strums his guitar. The edges and angles are streamlined, placing the trio's dark silhouettes against a stark white background. The set's square center eliminates all excess space and distractions, directing the viewer's entire attention to the performance.
The minimalism is refreshing in a sea of filter-heavy media. It stands out crisply among Taylor Swift's dreamily layered "Style" video and Ariana Grande's bubblegum-colored apocalyptic "One Last Time" video, relying on captivating its audience with its talent rather than its flair. It has the same feel as capturing a Pollock masterpiece in a black and white polaroid, a colorful array of emotions in a minimalist composition.
The hazy filters of Rihanna's "Te Amo" and pop-art props of "S&M" may be absent, but the understated "FourFive" still vibrates with the artist's larger than life presence. Rihanna's soul is on full display in "FourFive." Her eyes shine with tears she doesn't acknowledge. Her lyrics, infamous eye-roll, and baggy clothes read more like she's sick of caring rather than that she can't be bothered to care, and it's a new freedom of self that the audience is eager to embrace, even in its soberness.
The song is beautifully stripped down too, free of the artist's typical dance beats and layered choruses. It's nothing short of brilliant, laden with squeaky guitar plucking and no-holds-barred vocals. "All of my kindness/is taken as weakness" is a powerful lyric of self-awareness. It's a new, sophisticated side of the artist we've only had glimpses of before in works like her 2012 "Stay" performance. Her strength as a singer is evident without the glamour and fuzz.
The video is surprisingly brief, clocking in at 3 minutes and 11 seconds long, the content so captivating and catchy that the time passes in a blink of an eye. The footage was directed by Inez van Lamsweerde and Vinoodh Matadin, Dutch fashion photographers famous for capturing brands Hervé Léger and Vivienne Westwood, as well as shooting spreads for arthouse magazines like W, V, i-D, Interview, and AnOther Magazine. Their celebrity portfolio includes the portraits of Natalie Portman, Lady Gaga and Scarlett Johansson. The duo is renowned for their use of clean lines and interesting play of shadows, letting the human body be the art.
Rihanna, Kanye and McCartney recreated the video at their performance at the 57th Grammy Awards, backlit against a bright white canvas. McCartney cut the guitar for the last chorus, leading the crowd in a clap while Rihanna and Kanye sang with a kind of rawness rarely seen onstage, simple yet still capable of bringing a stadium to its feet.
If "FourFiveSeconds" is any hint towards the direction of Rihanna's upcoming album, then this woman is four, five seconds from major success.
About the Contributor
Meghan Bennett, Staff Reporter
Meghan Bennett is a senior at Normal Community High School. This is her first year on the Inkspot as a staff reporter.



Words To Live By


"Draw...