Indie comedy 'In A World…' shines with sharp wit and humor
2013 film uses humor while challenging views on feminism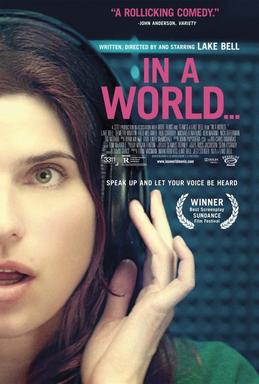 In A World… stars Lake Bell, who wrote and directed the film, as Carol Solomon, a vocal coach hoping to break into the male-dominated Hollywood niche industry of voice-overs. She competes with her egotistical father, played brilliantly by Fred Melamed, and his protege (Ken Marino), for a sought-after trailer narration gig which will reinstate the introductory phrase "in a world…" made famous by the late Don LaFontaine. You'd know the voice when you heard it.
The film oozes indie charm, providing laughs with its self-deprecating humor ("I get it, I have a face for radio" says the unfortunately large-nosed Marino), sharp wit, and rapid-fire delivery. Bell is completely believable as awkwardly endearing Carol, almost to the point of secondhand mortification as she bumbles her way through conversations. The stammering flirtations between Carol and her co-worker Louis (Demetri Martin) are watch-through-your-fingers adorable.
While it is primarily a comedy flick, In A World… effectively carries off darker sub-plots of Carol's sister's marital stress and Carol's struggle to fly the coop and become a self-sufficient adult. Beyond the surface, however, is an interesting commentary on feminism.
The film is a walking talking message on female empowerment, as Carol attempts to break into the male-dominated Hollywood industry. Behind the camera, the film was written by, directed by, and starring Lake Bell, a female in a swarm of male directors.
With the feminist movement gaining large ground in recent months, such as with Emma Watson's UN promotion of "He For She" and an influx in female heroines in film (Hunger Games) and television (The Mindy Project, Girls), this movie is another big step for equality in its message and production.
However, the film's events leave viewers musing over a dark question that makes feminist brains scramble to find an answer: are we hiring women because they are best suited for the job, or because they are women?
One assumes Lake Bell deliberately posed this question, as rather than letting her movie end on a glorious, woman-trumps-man note, Bell expands, blindsiding the viewer with a twist confrontation. She perhaps attempts to provide an answer with the last scene of the film, where Carol has reinstated her vocal coaching business to help women improve their voices so others will be able to see/hear beyond appearances. One woman admits to not being able to find a job because she sounds like "a sexy baby." Carol is trying to make sure each woman earns success because she deserves it, regardless of her appearance.
In A World… premiered at Sundance Film Festival in 2013, where Lake Bell earned a much-deserved award for Sundance's Best Screenplay. The movie was filmed over an impressive 20 days in Los Angeles, California. According to IMDB, the film grossed $2,962,542 as of December 2013– an impressive feat for a film made for under 1 million dollars.

It is rated R for language and suggestive dialogue, and is available to stream on Netflix.
About the Contributor
Meghan Bennett, Staff Reporter
Meghan Bennett is a senior at Normal Community High School. This is her first year on the Inkspot as a staff reporter.



Words To Live By


"Draw...