Peek into the life of an English teacher
Katelyn Hoegger is an English teacher at NCHS who is funny, outgoing, and has a great sense of style. Despite being only in her second year at NCHS, she is cherished by many of the students who have had her as a teacher.
Q: What was life like for you in high school?
A: I worked a ton. I had 2 jobs, so there wasn't time for me to be as involved with school activities as much as I would have liked. I also had 3 substantially younger siblings- guess who got stuck babysitting all the time! In school I was pretty quiet and kept to myself. My two worst subjects were math and science. Shocking, I know.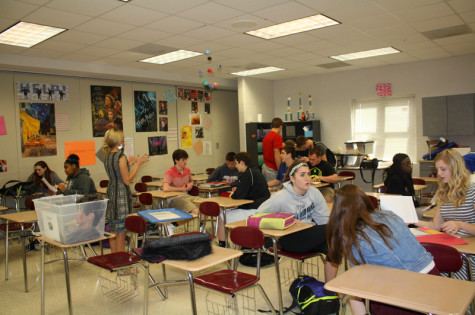 Q: What inspired you to become a teacher / before coming a teacher, could you have ever pictured yourself working and teaching others? 
A: I didn't get inspired to become a teacher until college. I had a fantastic teacher my freshman year who helped my become more comfortable opening up. Other students in class began asking me for help with papers, and this teacher saw that I had a knack for writing as well as helping people. She pulled me aside one day after class, told me I should be a teacher, and I knew she was right. I didn't always want to be a teacher. I have always pictured myself doing some sort of job working with people. My first major was psych.
Q: How long have you been teaching?
A: This is year 2.
Q: What is the most difficult part(s) of being a teacher? 
A: Seeing students struggle with outside things or with school. It's hard to watch kids go through some of the things they do.
Q: What is the best/most rewarding part(s) of being a teacher?
A: When my students improve. They are also brilliant. When they challenge themselves by thinking about things we discuss in a different/critical way, that's a wonderful thing to witness and be a part of. Plus, my students give me tons of reasons to smile. They're hilarious!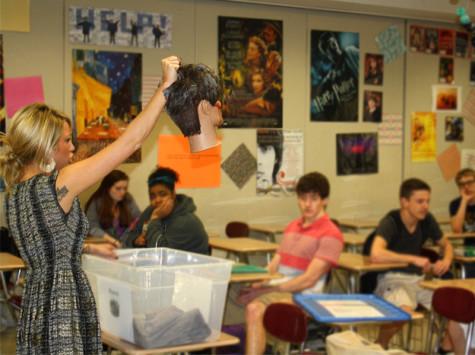 Q: What's the weirdest (or most interesting) thing to have ever happened while teaching? 
A: Last year I had kids who would vandalize my room with troll faces (all in good fun).
Q: Do you plan on teaching for a long time? 
A: I hope so… Haven't gotten fired yet! Fingers crossed!
Q: Outside of school, what are your hobbies?
A: I, of course, love to read. Right now I'm re-reading a book I read over the summer a few years ago. I have kind of a serious shopping addiction; I'm a sucker for a good sale! I also enjoy watching Game of Thrones (season 4 starts this Sunday!)
Q: If you could give one piece of advice to students, what would it be?
A: Try weird food. Your taste buds change as you get older. You never know what you might end up liking.
About the Contributor
Ashley Kennedy, Staff Reporter
Ashley Kennedy is currently a senior at Normal Community High School.  She is apart of her school's Speech Team and is an Inkspot Staff Reporter.

Favorite...