Hair styles for prom
Prom night is closely approaching and it can be stressful finding the perfect hairstyle. Luckily there is no need to waste hours endlessly searching for the perfect look because here are the top 5 Prom Hairdos according to beauty.about.com. On top of everything, spending days shopping for the perfect dress can take a lot out of someone. So take a break from the madness and check out these looks.
1. The Messy Updo
Most girls long to be able to look flawless without it appearing as if they have been trying for hours to look perfect. This chaotic, yet classy, updo is just the thing for girls who love the simple looks. This style specifically accents the face and neck. It draws people's eyes up at the face, instead of down at the body. This updo is not for everyone, but it is definitely a great way to pull together a look.
2. Half-up/Half-down
Although this look is rather simple, it's humble elegance is best portrayed best with long luscious locks. There are many different ways to pin back your hair, but there is something very tasteful about this specific look. For people who don't want an updo, but can't stand to have every piece of hair touching their neck, this style is perfect. It works best for those who have longer hair, because it really allows for intricate details throughout the hair that is pulled back. This is personally my favorite look, and it was my hairstyle of choice for my previous prom.
3. Braids
Though some people perceive braids to be childish or strictly for little kids, there are many ways to spice up a simple braid to make it the perfect look for prom. There are plenty of different types of braids to choose from. For instance, there is the waterfall braid, which wraps beautifully around the back of the head (like a waterfall). There are also ways to add flare to a basic French braid to make it worthy of prom hair, like pulling it back into a bun. Either way, braids aren't just for little kids anymore, so don't be reluctant to give them a try.
4. The Side Pony
The classic ponytail is no way to wear your hair to prom. However, stick it on the side of your hair, and add some curls, and it seems to be acceptable. This look is fun, and tasteful, which would be perfect for this spring dance. One could add a simple bow or even extensions to make the side pony full and luscious.
5. The Non-Updo
The Non-Updo is just what it sounds like. Sometimes girls with long hair like to wear it down for prom because it is both simple and beautiful. However, this look is not only for girls with long hair; girls with short hair can easily rock this look too. Another way to spice up this look is to add waves, or curls, or one could add a poof.
All of these looks would be perfect for prom. Don't hesitate any longer, chose your look, and most importantly have fun!
About the Contributor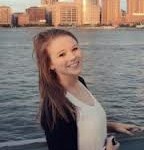 Kelsey Hinshaw, News
Kelsey Hinshaw is a seventeen-year-old senior. This is her first year as a journalism student. Along with writing, her other hobbies include photography,...