Open a "new" world of fashion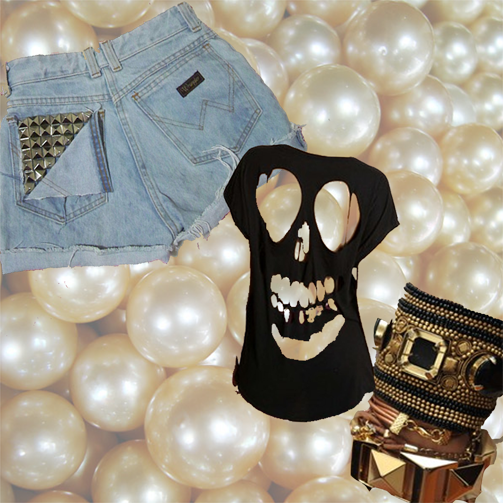 Although it may not feel like it, spring is on its way! That means that it's time to break out your warm weather clothes… if they aren't "out of date" or they no longer fit. However, before you go through your wardrobe and decide what to throw away, open your mind!  The things that go unnoticed in your closet can actually be made into entirely "new" outfits.  Here are some steps to take what you have and create a fresh look.
1.)  Layer.  Layering is not just something for the cold months of the year.  Putting a t-shirt over a collared polo makes for a much different look.   You can fasten the buttons all the way for a sleeker feel, or you could unbutton it to look more casual.  Not only can shirts be layered, but also socks, shorts & tights, and jewelry.  Wearing tall socks with short ones over them can transform your appearance, as well as tights with a pair of jean shorts on top.
2.)  Take Advantage of Your Family's Wardrobes.  Not only can old items be taken from your closet, but also from any of your family members.  Have you ever really looked through your mom's old clothes?  You may be surprised.  Old sweaters and t-shirts make for a unique or vintage look.  Your dad's giant work shirts can be changed into much more than that.  You can take a nice button down and make it more casual by rolling up the sleeves and tying the bottom.
3.)  Use Scissors.  Unwanted t-shirts can be cut into cute crop tops or tanks for summer.  You can take your old jeans that are too short and cut them into shorts or capris so you can put them to use once again.  If you want to take a more creative approach, you could also cut holes or designs into shirts or shorts.  The options are endless.
Don't be afraid to try something new with your clothing this season.  There are so many options to makeover the attire that you already own.  Don't go out and spend money when you can just open up your imagination to a more creative fashion world.
About the Contributor
Natalie Trumbull, Staff Reporter
Natalie is a junior at NCHS who manages to focus on her studies and the fun of being a teenager simultaneously.  She is a second year journalism student...