In Between the Lines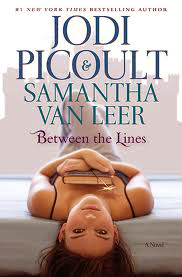 In Between the Lines is a stand-alone novel co-written by Jodi Picoult and her daughter Samantha Vann Leer. This book is the perfect mix of reality and fantasy.
Delilah is incredibly shy and timid, especially around other classmates, but she finds security within the pages of her favorite childhood fairy-tale. Her mother becomes concerned about her fascination with the children's book, but for Delilah it's real.  Prince Oliver speaks to her…literally.
Prince Oliver, or just Oliver to his friends, is going nowhere in life.  He's the main character in Delilah's fairy-tale and hates every second of it.  He seems to be the only character that wonders about what is beyond the story-line.  He loathes having to act his part every time the book is opened and never being able to say his own words.
Finally, Oliver decides to break out of character, and, surprisingly, Delilah hears him. This begins the strangest relationship ever created.
Delilah and Oliver begin to plan a way to rip him out of the pages and into real life, but soon realize that it's not going to be as easy as they'd like.
In Between the Lines has received positive reviews from Booklist and Publishers Weekly.
"A compulsively readable charmer… The tender, positive tone and effective pacing that builds to a satisfying finish will inspire readers to pass the book to a friend – or reread it themselves." –Booklist
"The story is peppered with pop culture references to The Hunger Games, the Kindle Fire, and the X-Men, as well as comic relief in the form of characters like a talking horse that thinks it has a weight problem. Readers… will be swept up by the romantic premise." –Publishers Weekly
The overall uniqueness of In Between the Lines makes it worth a shot and should definitely be on your reading list.