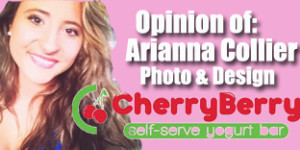 As you may know, the newest frozen yogurt place in Bloomington Normal is called Cherry Berry. Some say this is a better version of Chill Out, but many others disagree. The moment you walk in the doors, you are mesmerized  by a number of different, delicious flavors. According to Cherry Berry's website, the flavors range from original vanilla to sea salt caramel pretzel. Unlike Cherry Berry,  Chill out only has a few original flavors, and only one or two special flavors.
Another reason Cherry Berry is better than Chill Out is because of the positive atmosphere that the store has. Cherry Berry's colors of red, green and a hint of pink are very bright and inviting. There is nothing boring about this place,  while as Chill Out has dull colors that are uninviting. A restaurants atmosphere is an important factor when it comes to owning a successful business, and Cherry Berry does a fantastic job at making customers feel warm and welcome.
Although the restaurant itself is amazing, the real deciding factor is the actual taste of the frozen yogurt. Chill Out is almost like soft-served ice cream due to the smooth, thick texture and original flavors. Cherry Berry, however, is very thin, light and fluffy, which is how frozen yogurt should taste.
These reasons and many others are why Cherry Berry is better than Chill Out. I would recommend this place to anyone that has not already tried it. Cherry Berry is located on 503 South Main Street in Normal, Illinois, go check it out!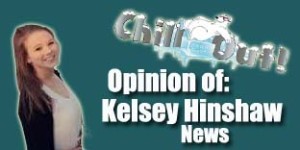 There are a plethora of ways to successfully satisfy your sweet tooth, however, many of which are unhealthy. Whether indulging in a bucket of ice cream, or diving into a pile of chocolate, both add many unnecessary calories to your diet.
Fortunately there is one place that can fulfill your cravings without having to worry about the extra weight gain. Chill Out is not only a great place to max out on the array of flavors of frozen yogurt, but it also makes it easy to monitor your calorie intake. Chill Out features a diagram that tells the nutritious facts about each item on the menu. This is great because it is easy to enjoy a tasty treat without having to worry about feeling guilty later.
There are two different places one could go to experience this great tasting frozen yogurt. Chill Out is located in Uptown Normal, just a few doors down from Medici, and Cherry Berry is on South Main Street near Fusion Brew.
According to Chill Out's Facebook page, they have added new things to the menu, including soups and other food items. This makes Chill Out so much more than just a frozen yogurt place. Cherry Berry has a lot of improvements to make if they want to stay round.
Chill Out has been complimented on its available parking and great location while parking is a major issue at Cherry Berry, many people have been towed due to the lack of availability. Even Olivia Smith, an ecstatic Cherry Berry customer, complains about the lack of parking. "Many people have gotten parking tickets because there is limited available parking." Although Cherry Berry has only been open for about a month, it has already received many other complaints. Ellery Fry expresses her opinion about the restriction on taste tester cups. "They only give you three tiny cups, and they have more than ten different flavors. But, at Chill Out you can have as many as you want!" Although there are many Cherry Berry fanatics, Ellery is one of many people who have chosen to stay loyal to Chill Out. She says she is drawn in by their array of flavors and their impeccable customer service.
Another great thing about Chill Out is their outside seating area. Due to Cherry Berry's new popularity, it is often very crowded and there is hardly ever a place to sit.
Trying new things is over rated so resist that urge and stay loyal to Chill Out.