Head 2 Head: Qdoba vs. Moe's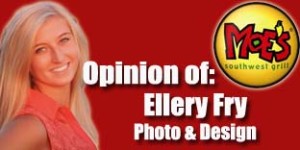 Being greeted with an enthusiastic yet unsynchronized "Welcome to Moe's" is only a greeting into the Moe's atmosphere. This dine in or carry out restaurant can satisfy anyone looking for a unique taste of the southwest.
Glancing up at the massive menu posted on the wall, you can choose from many of Moe's' unique entrees. According to the Moe's website the franchise gave employees the liberty of naming some of the dishes. Customers can start with a John Coctostan (quesadilla), Billy Barou (loaded nachos), Homewecker (burrito), or one of the numerous other menu choices offered by the restaurant.
Once customers have made their decision, they can choose from Moe's many extras to transform their meal into the southwest treat they desire. Complementing most entrees, chips and a drink are also served. Moe's chips and queso are "delicious and salty" according to NCHS senior Jenny Formusa. The one drawback Moe's has is forcing their customers to choose between their signature teas or to mix up a flavored drink at the Coke free machine.
The customer appreciation exhibited from the Moe's franchise is a major factor in their return business. On a weekly basis, Moe's has nightly specials. The fun begins with "Moe's Monday" which entitles customers to a five-dollar burrito any way they like.  Tuesday night allows children to eat free with the purchase of an adult meal.
The great atmosphere, food, and customer appreciation is only part of Moe's advantage over Qdoba in Bloomington's Mexican cuisine. Additionally, Moe's prices are typically more reasonable than those of Qdoba. Although Qdoba offers a free drink with a student ID, they have fewer drink options to offer customers. Finally, Moe's has complementary chips with any meal while Qdoba charges customers for a side of chips.
Overall, Moe's offers a better Mexican food experience than Qdoba. Next time you're in the mood for a taste of the southwest, consider all that Moe's can offer you.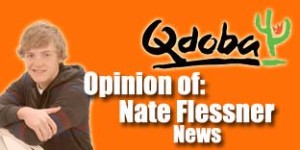 Qdoba is a fast yet casual Mexican-style restaurant that operates throughout the U.S. Founded in 1995 in Denver, Colorado by native Anthony Miller and partner Robert Hauser, over 600 restaurants are now in operation across the country. Specializing in a San Francisco based burrito style, the chain also offers freshly made tacos, quesadillas, taco salads, chili con queso, Mexican gumbo, and guacamole. Coming into operation at a time when similar restaurants were also just opening their doors, Qdoba faces fierce competition with such chains as Moe's Southwest Grill, Baja Fresh, Panchero's Mexican Grill, and especially Chipotle Mexican Grill, which, ironically, also opened up in Denver two years before Qdoba.
Speaking from personal experience, I can safely say that Qdoba's most redeeming and certainly most popularly known quality is the skill and effort it puts into making its burritos. The half-pound monster they produce at customer's discretion right in front of their eyes comes standard with a choice of black or pinto beans, cilantro-lime rice, grilled chicken, steak, pulled pork, shredded beef, or seasoned ground beef, lettuce, shredded cheese, sour cream, and guacamole. And it doesn't stop there, customers also have the choice to mix, match, and add other ingredients to make their own personalized burrito 'experience'. This variety and choice is one of Qdoba's trademarks, making it stand out in comparison to some of its larger, more widespread competitors. This variety also extends to many of Qdoba's other meals, allowing a large amount of flexibility for each customer to work with. And though certainly not specific to Qdoba, I must also mention their deadly chips, salsa, and chili con queso combination, as it adds that final touch to a delicious and well prepared Mexican style meal.
While not as common and slightly more expensive than some of its competitors, in comparison to other Mexican restaurants of this type of I believe Qdoba wholeheartedly to be the best all around. Their burritos are the largest, most hearty to be found amongst its competitors and its variety and flexibility with meals can't be beat. They also boast superior quality ingredients and portion sizes not just with their burrito but with their entire assortment. Simply put, you get what you pay for, so in paying slightly more customers receive a greater quality product. As opposed to some fast yet casual food restaurants that occupy the same niche as Qdoba, not once have I ever experienced any kind of indigestion or stomach irritability from eating their food. Their ingredients are whole, fresh, and well prepared. Along with almost always expedient service, anyone looking for speedy yet satisfying Mexican style cuisine need look no further than Qdoba.
About the Contributors
Ellery Fry, Photo & Design
Ellery Fry is senior and first year journalism student. She is on the Photo & Design desk for the Inkspot. Although Ellery has writing experience from...
Nathan Flessner, News
Nathan Flessner is an avid reader, writer, and conversationalist involved in the News desk of the Inkspot. He is currently engaged in several sports including...