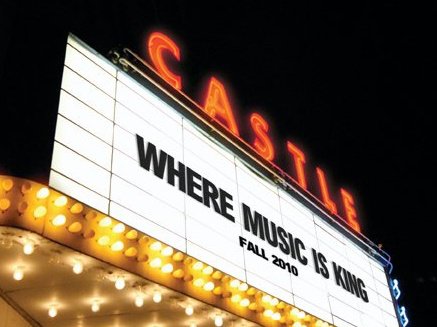 The lights are dimmed and a slow roar spreads throughout the crowd, chanting the band's name in anticipation. Everyone closely packed waiting for the excitement to start. Concerts are a fun way to hang out with your friends while enjoying music that you love.
The Castle Theater located in downtown Bloomington is a great place for teens to go searching for cheap fun around town. The Castle, movie theater has been transformed into a wonderful venue for concerts. According to the theater's website, it represents the past with its intricate, older architecture creating a homey feeling. It meshes the past, present, and future perfectly together. The venue includes a main floor with removable seats and a seated balcony. It has beverage bars on each side providing many different drinks to the audience. The ability of an open venue allows the Castle Theater to hold teen dances like Adrenaline, which they held a couple years back.
The theater features many musicians appealing to all ages and tastes in music. They feature artist in Rock, Alternative Rock, Americana, Alternative Country, Blues, Jazz and Contemporary Alternative. The Castle also has occasional children's musical performances during the day.
"The Castle Theater is beautiful!" Cydney Hillyard (11) says with excitement, "You are so close to the musicians and bands on stage which is so exciting. All the concerts just give you such a rush."
The Castle Theater is a great place to have fun and let go. There are many up coming concerts waiting for you. The list includes: Reel Big Fish on Jan. 18, Chase Rice on Jan. 19, The Bodeans on Feb. 13, and G-Eazy on Feb. 18. There are many more concerts at the Castle during the next couple months that are for all ages, 18 years and older, or 21 years and older that you can check out on their website at thecastletheater.com.
Under each concert announcement you can find a description of the musician, price of tickets, the age group allowed, and when the concert will be. Most of the tickets are around 15 or 20 dollars, which is very affordable for many high school students. You can buy tickets online or at Waiting Room Records located in uptown Normal. So get out there and try something new with friends and enjoy the music.