Ear cuffs: more than an earring, less than a piercing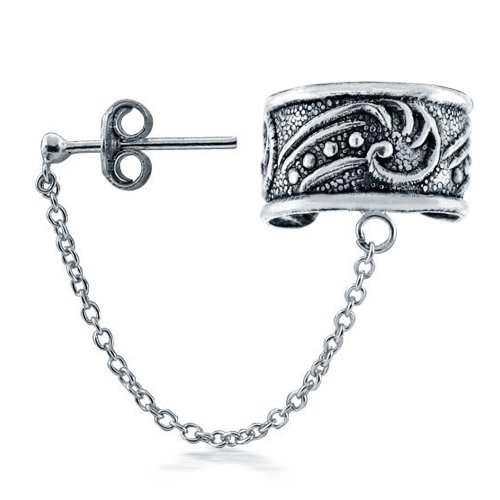 Have you ever wanted to wear cartilage earrings but never wanted to get a cartilage piercing? Well, there is a way. A popular new trend for 2013 are ear cuffs, which are designed to fit the upper portion of the ear without having a piercing. This new kind of earring accessory is designed in a curved shape, which fits snugly around the folds of the cartilage. Commonly, ear cuffs are designed with fancy features, like earrings or gemstones which dangle from them. There are also many varieties of shapes and different cuffs that can come in different animals.
Some people like more simple ear cuffs, and some prefer more dangly cuffs that take up more of the ear. In some cases, these parts of the cuff may be designed to detach from the ear cuffs. Gemstones are usually set into the side of the ear cuff that is designed to face out, so they can be clearly seen. Ear Cuffs come in a large variety, so there is one for everyone's liking. They come in many colors to fit everyone's taste. If these cuffs are appealing, go check them out at Claire's and Icing in the Eastland Mall. Many stores that you would usually buy jewelry will be selling them also. If you don't want to leave your house to find these, they are also sold online at Claires.com. Go out and start the new year with a great new trend.
About the Contributor
Arianna Collier, Photo & Design
Arianna Collier is a first year Journalism student. She is a seventeen-year-old senior at Normal Community High School. Her current role for the Inkspot...