Let's get weird!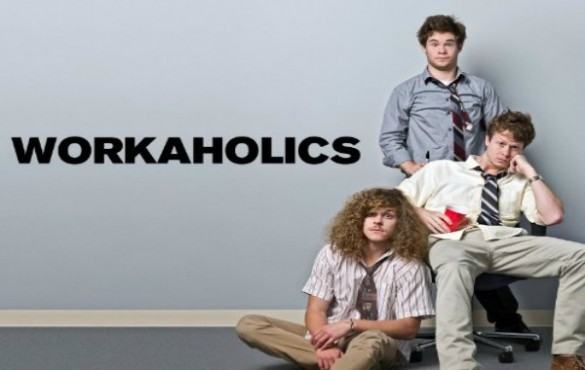 Most Comedy Central viewers are getting ready for the upcoming premiere of Workaholics, the hit sitcom that first aired in 2011. The third season has been split into two parts, this being the second half.  If you're one that's never seen the laugh-out-loud comedy, viewer discretion is definitely advised. The strange and absurd humor may not be appealing to everyone.
For those who haven't seen it, the show follows the crazy antics of Anders (Anders Holm), Blake (Blake Anderson), and Adam (Adam DeVine), three college dropouts turned telemarketers that live together.  They're still stuck in the college life; partying, drinking and doing drugs being some of their main hobbies. Other characters such as their crazy drug dealer, Karl (Kyle Newacheck), and their variety of coworkers are also featured on the show.
Every episode of Workaholics is drastically different, yet equally strange and hilarious. They're constantly dropping jokes that are immature, yet amusing to all ages. Their shenanigans range from just hanging at home, getting drunk to accidentally sending their coworker on a date with a Juggalo.
The episode "Booger Nights" will be airing on Wednesday, January 16th at 10PM. It will include Ders, Adam and Blake in an office roast. The much-anticipated premiere will be undoubtedly as fun and laughable as the previous two seasons. So take thirty minutes out of your daily life to get a little weird, it's definitely worth it.
About the Contributor
Andrea Brown, Features
Andrea Brown is a fifteen year-old sophomore. She has been in two years of Honor's English and plans to continue with it. She writes for the Features...