PajamaGram: send the gift of relaxation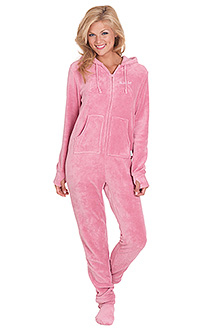 The holidays are here!  Although it is a great time of year, it can also be a stressful few weeks.  Time with family is important, and the last thing anyone wants to do is to forget about purchasing a gift for someone you care for. If you are on the hunt for a holiday present, a PajamaGram just might be the perfect gift.
What is a PajamaGram?  The PajamaGram idea is like the idea of a candygram.  Candygrams are given during the holiday season from one friend – or family member – to another.  This is similar to how a PajamaGram works.  A PajamaGram is not a candy cane, or a small love note, but it is even better.  From the name of the product, you may be able to figure out that PajamaGrams are actually pajamas.  These pajamas are given in a unique way and also come in very original patterns and styles.   The exceptional part about PajamaGrams is that they are given indirectly through the mail, which creates an element of surprise to the one accepting it.
Not only are PajamaGrams a fun gift to offer, but also the process of ordering them is very easy and stress-free.  If you purchase a PajamaGram for a loved one, there is nothing you have to worry about.  After you pick out the clothing item or items that you want to buy, the rest is easy.  You simply provide all of your billing info to the website and also the shipping information for where you want the gift to be sent.  The PajamaGram will arrive to the recipient's residence already wrapped and ready to go.  At this time, free gift-wrap is available for all patterns.
PajamaGrams can be given to anyone.  They are made for children, men, women, and even pets.  PajamaGrams come in sizes ranging from XS-3X in women's, to a M-XXL in men's.  Children's sizes are available at 6-14 and infant/toddler sizes at 0-3 months through 5T.  Along with the wide variety of sizes that are sure to fit anyone, there are also over 200 styles to choose from.  PajamaGrams come in specialty designs specifically for Christmas and Hanukkah.  This fun gift can be found with hoods, footies, pockets, and in exclusive patterns.  You can even customize selected PJ's with a name.  If you cannot choose between all of the PajamaGram choices, gift cards are also available.
Have a worry-free holiday season – Check out PajamaGrams at www.pajamagram.com!
About the Contributor
Natalie Trumbull, Staff Reporter
Natalie is a junior at NCHS who manages to focus on her studies and the fun of being a teenager simultaneously.  She is a second year journalism student...