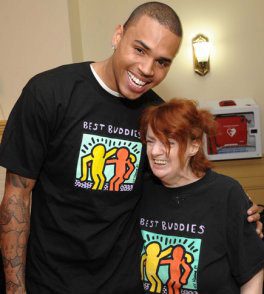 When most people hear the name Chris Brown, they can't help but think of his past issues involving singer, and former girlfriend, Rihanna.  Although the domestic violence case has affected his career since the dispute in 2009, he has made an effort to become a new man.
Chris Brown has realized that domestic violence is not the answer.  Many people aware of his case do not support him in any aspect because of this single incident.  Even though there are no excuses for Chris' mistake, others are starting to look at him in a new light.
As many years have gone by, Chris wants to move on from his fault.  Rihanna has seemed to forgive him, and many others have accepted his apology to her.  Recently, she has collaborated with Chris on songs titled "Birthday Cake", "Turn Up the Music Remix" and a new song on her most recent album, Unapologetic.  The new track, "Nobodies Business", focuses on how the public should mind their own business, encouraging privacy not only for Rihanna herself, but also her relationship with Chris.  She believes that the incident she shared with Chris does not represent him well and supports his involvement with charity work.
Since 2009, Chris has made many efforts to give back to those effected by domestic violence.  Because Chris had domestic violence issues at home as an adolescent (an abusive stepfather to his mother, Joyce Hawkins), he understands how wrong it is to take part in such behavior.  He has expressed his feelings about how he does not believe in the cycle of violence, as he has said in many interviews after the incident.  After the physical altercation with Rihanna set in, he stated, "that's not who I am as a person, and that's not who I promise I want to be".  Since then, he has stuck to that statement and continues to be successful in his career and his generous ways.
The now 23-year-old entertainer has helped many organizations that deal with domestic violence victims.  Chris has volunteered at the Jenesse Center, which deals with that topic, and has also donated to many charities (such as Best Buddies and charity:water),  focusing on a variety of topics. He has volunteered by playing in celebrity basketball games and performing at non-profit concerts.
Deciding to help communities around the nation was not a hard decision for Chris.  He has been helping people since he was a child, alongside his mother.  Since he has been successful, he has also donated financially to many organizations.  Being so inspired, he has even started his own foundation: "Symphonic Love".  The Symphonic Love Foundation focuses on supporting children through art programs and also inspires public service.  This organization is very close to his heart, not only emotionally, but also physically. Chris named the foundation after the tattoo that he has on his chest that says "Symphonic Love".
More information on the Symphonic Love Foundation can be found at symphoniclovefoundation.org.