America's greatest singing show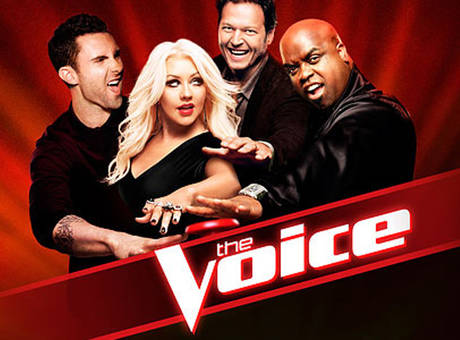 "The Voice" is an exciting show that showcases many talented singers of all ages. "The Voice" returns with the strongest vocalists from across the country for the show's third season.
The contestants are coached by celebrity singers Christina Aguilera, Cee Lo Green, Adam Levine and Blake Shelton. There are also other celebrities such as Carson Daly as the host, and Christina Milian as the Social Media Correspondent.
The show has four stages of the competition: the first begins with the blind audition, then the battle round, the 3rd season's brand new knockout round and lastly – the live performance.
During the blind auditions, the coaches only listen to the contestant's voices. They hear the singers perform, but their rotating chairs are faced away from the stage, forcing them to only judge based on voice alone.
If a coach is impressed by the singers voice, he or she pushes a button to choose the singer for their team. At this point, the coach's chair will swivel so that he or she can face the singer that they have selected. However, there is a little twist, if more than one coach pushes their button, the singer has the ability to choose whomever they want as their coach.
If no coach pushes his or her button, the singer is immediately eliminated from the competition. After this, the singers work with their coaches on a song they will be singing for the battle rounds where they compete against one other singer. Whoever wins this round will then move onto the knockout round. The singer that wins this round, goes onto the live performance where they sing for America to vote for their favorite. The winner of the show receives $100,000 and a record deal with Universal Republic.
If you think this show will intrigue you as a viewer, check it out on NBC every Monday at Tuesday night at 7 p.m.
About the Writer
Arianna Collier, Photo & Design
Arianna Collier is a first year Journalism student. She is a seventeen-year-old senior at Normal Community High School. Her current role for the Inkspot...