Styles' new album 'Lights Up' the music industry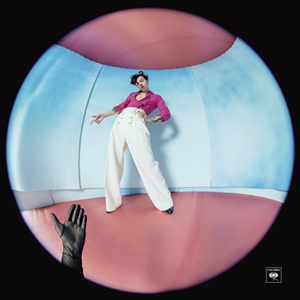 Harry Styles has been keeping a low profile in the music industry since his first solo album Harry Styles debuted in 2017 and his concert tour "Harry Styles: Live On Tour" came to a close in 2018. 
When the artist took a hiatus from social media in July of 2018, millions of fans were desperate for something – anything – even just a sign of life from Harry Styles. After living in the dark for over a year, Styles returned to social media on October 10 to release "Lights Up," the first single off of his second solo album. After over two years of waiting, fans were finally greeted with another musical breakthrough from Styles – Fine Line – and it did not disappoint.
The concept album, heavily influenced by the sounds of David Bowie, immediately hit #1 on the iTunes charts soon after its release on December 13. Styles' sophomore album focuses on the cycle of love – from initial attraction to either an everlasting relationship or heartbreak. His first single "Lights Up", encourages loving yourself and embracing who you are. Lines like "shine, step into the light" and "I'm not ever going back" encourage listeners to be bold and confident, much as Styles has done since the release of his first solo album.
In addition to the pop anthem that promotes self-love, the album also contains a mix of upbeat tunes like "Canyon Moon," that focus on the feeling of connection, as well as emotional ballads like "Cherry," that highlight the aspects of heartbreak. With contrasting tones throughout the album, listeners are sure to be pleasantly surprised with the new sounds that Styles has chosen to experiment with.
Styles implements new sounds throughout the album, while also staying true to his original indie pop-rock style. Tracks like "Golden" and "She" resemble some of the echoey, relaxed tunes that fans fell in love with throughout the artist's first solo album, which debuted in 2017. The prominent bass, synthesizer and electric guitar in these songs complement Styles' voice beautifully, while also adding new levels of complexity to the songs. "To Be So Lonely" and "Treat People With Kindness" differ from the sound and style that Styles has become known for, but they provide a contrasting, fun sound that fans have come to love. 
The end of the album focuses on highlighting Styles vocals, especially on songs like "Falling" and the title track "Fine Line" that feature little background instrumentation and spotlight his impressive vocal range. In my eyes, the song that most greatly showcases Styles' vocals is "Adore You," the groovy, upbeat single that instantly reached #1 on the iTunes charts. With the song being complex both vocally and conceptually, it proves to be one of the most all-around impressive songs on the album. Lines like "walk in your rainbow paradise" and "you're wonder under summer sky" create a cheerful, "summery" mood that stands out from the rest of the tracks.
Styles has once again created a well-rounded tracklist that features a mix of feel-good tunes and emotional ballads, woven together to create the masterpiece that is Fine Line.
The album retails for $11.99, and it can be streamed on most major streaming platforms, including Apple Music, Spotify, SoundCloud, and Amazon Music. The CD and vinyl produced by Columbia Records retail for $11.99 and $36.98. Styles' previously released singles "Adore You," "Watermelon Sugar," and "Lights Up" debuted as No. 17 on the Billboard Hot 100. 
About the Writer
Charlotte Calmes, Editor-in-Chief
Charlotte Calmès is the Inkspot's Editor-in-Chief. She is a senior at Normal Community High School and the president of the school's Best Buddies chapter,...